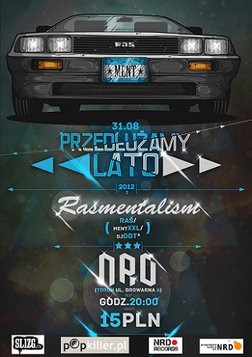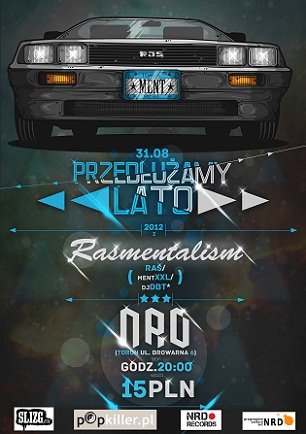 Date
Friday 31 August 2012 at 8:00pm
Description
31 sierpnia to data, która zamyka okres wakacyjnej beztroski. Sezon urlopowy powoli dogorywa, słońce świeci coraz słabszym blaskiem, szorty zalegają w szafie a temperatura na zewnątrz skłania do spędzania wieczorów w odpowiednim towarzystwie, coraz częściej w środku" niż "na polu".
Klub NRD ma to do siebie, że można to z powodzeniem połączyć. Legendarno-afterowe patio (to na nim rozpoczęla sie znajomość Sławka U. z zespołem Rasmentalism) plus odpowiednio duży dancefloor stwarzają idealne warunki, by wakacje 2012 i idące z nimi w parze lato - nieśmiało pożegnać.
Zespół Rasmentalism gościł Toruń już trzy razy, w tym 2 razy w klubie NRD. Zawsze wracają z uśmiechem na twarzach. Tym razem z jeszcze większym, bo oprócz koncertu, który będzie gwoździem wieczoru, Ment XXL oraz Dj DBT zapraszają na before i afterparty, które będą swoistymi pocztówkami przypominającymi mijające wakacje. Boogie, disco, balearic, funk i najlepszy rap - całą noc. Wszystko po to, by 1-ego września powitać z mniejszym bólem.
Przedłużamy lato!
Koncert Rasmentalism
* Ras
* Ment XXL
* Dj DBT
Before & Afterparty: Ment XXL, Dj DBT
Start: 21:00,
Bilety: 15 PLN