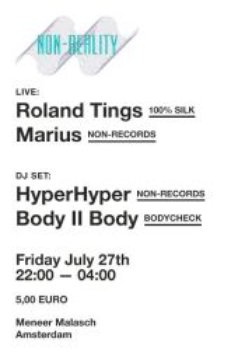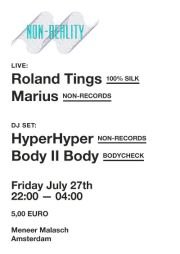 Date
Friday 27 July 2012 at 10:00pm
Description
22:00 Door (Inc. DJ set)
00:00 Marius (live)
00:45 Body II Body (DJ set)
01:45: Roland Tings (live)
02:30: HyperHyper (DJ set)
----
Contemporary electronic music is best taken in at a dark club, filled with sweaty people, dancing ecstaticly to the the beat. So instead of just letting you indulge in our blog's vibes through shitty laptop speakers, we're now letting you experience them in the flesh. At the first Non-Reality showcase we will provide you with:
Roland Tings (live-set) https://soundcloud.com/rolandtings
Try to keep up with the prolific 100% Silk label and you'll be pouring with sweat in no time. Their latest signee is Roland Tings – hailing from Melbourne, he adds the heat of his hometown to Chicago's late '80s jacking house vibes. The man is bringing his live set to Amsterdam, and is bound to manipulate the night away.
Marius (live-set) https://soundcloud.com/nonrecords/sets/marius-things-we-did
In all this season's hotness, a tropical breeze deserves a warm welcome. NON Records wonder-boy Marius has a profound love for electro and pop jams, and it seeps right through in his musical output. With a bass guitar and a set of knobs by his side, he's ready to take us into a pool of psychedelic oddities and sweltering ecstasy.
HyperHyper (DJ-set) https://soundcloud.com/nonrecords/hyperhyper-blockrave-mixtape
Nineties-fetishist, stroboscope appreciator and dancefloor demi-god HyperHyper will break and enter into the night, leaving it man-handled. The rave-descendant of NON Records will show Amsterdam a twisted time, and no one gets out alive.
Body II Body (DJ-set) https://soundcloud.com/body-2-body
With their fascination for rubber and leather, diva vocals, and jacking beats, Body II Body love to upset a crowd with a mix of Chi-house, acid, and wave music. Macho men and women unite; it's time to flex some muscles.