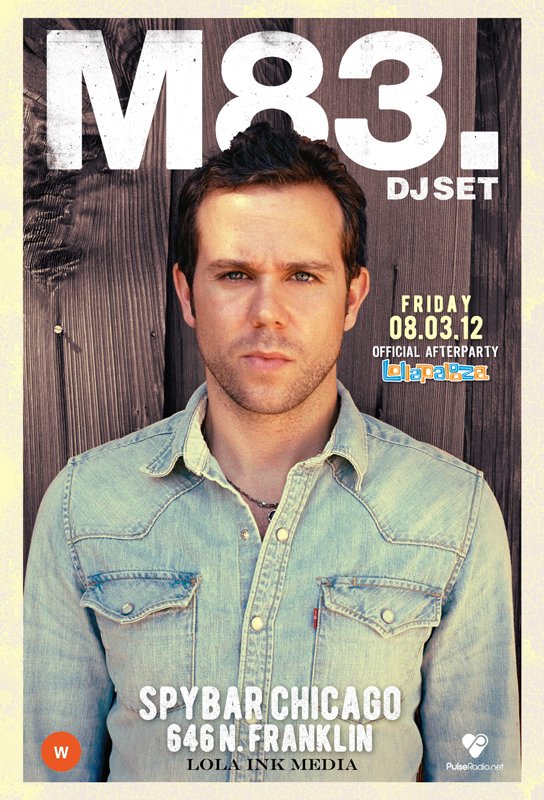 Date
Friday 3 August 2012 at 10:00pm
Description
LOLLAPALOOZA AFTER PARTY ft M83-DJ SET @ SPYBAR
Friday, August 3
A weekend of Lollapalooza After Parties kicks off at Spybar with the French ambient shoe-gazing M83, bringing their electro-infused DJ set to the big system for one night only.
THIS SHOW IS SOLD OUT. For limited table reservations call 312-337-2135.
M83 (France)
In 2003, Frenchmen Anthony Gonzalez and Nicolas Fromageau enjoyed international acclaim for the album Dead Cities, Red Seas & Lost Ghosts, a luscious blend of shoegaze aesthetics, ambient pop, and progressive textures. But M83 had been releasing material for several years, having issued their self-titled debut through the tiny but taste-making French label Gooom in 2001...
More info - http://www.starpulse.com/Music/M83/Biography/
TABLE RESERVATIONS - mae@spybarchicago.com or call 312-337-2135.
FOLLOW US on Twitter - @spybar
LIKE US on Facebook - http://www.facebook.com/pages/Spybar/143751708992927
CHECK US OUT online - http://www.spybarchicago.com/
SPYBAR
646 N. Franklin (between Ontario and Erie)
10pm-4am | 21+ | parking/valet available