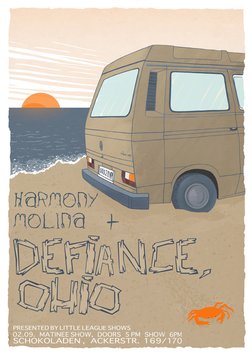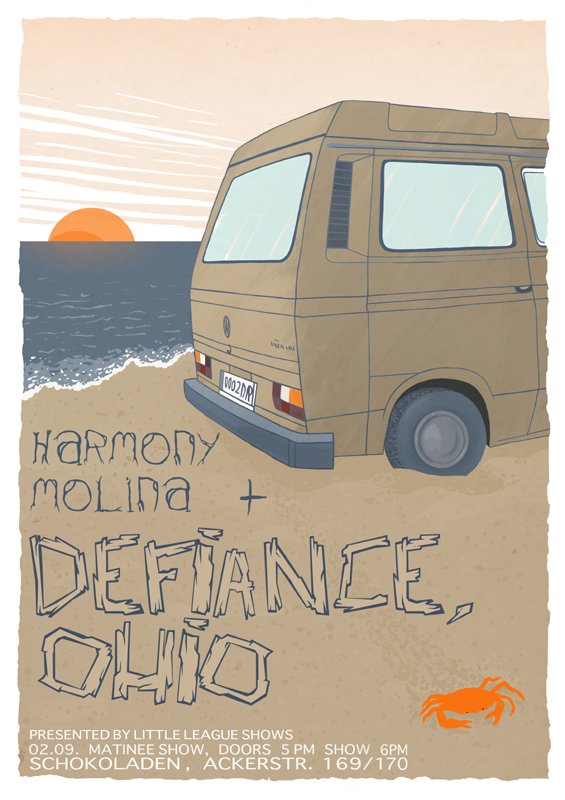 Date
Sunday 2 September 2012 at 5:00pm
Description
Little League Shows presents:
DEFIANCE, OHIO + HARMONY MOLINA
DEFIANCE, OHIO /// is an indie band from Columbus, Ohio. They are known for their extensive touring and intense, enthusiastic live shows. They are named (tongue in cheek) after the real town Defiance, Ohio. The band has a unique line-up for a punk act, featuring violin, cello, banjo, acoustic and electric guitars, piano, and electric bass (formerly an upright bass).
Since Defiance, Ohio formed in 2002 they have released four full length LPs, Share What Ya Got, The Great Depression, The Fear, the Fear, the Fear, Midwestern Minutes and several singles, B sides and split EPs. In the DIY spirit they release most of their music themselves, producing their own CDs, as well as allowing anyone to download all their music for free from their website (http://defianceohio.terrorware.com/). When not releasing their own music, the band works with small independent record labels in order to produce their releases. Their three most recent albums were released on No Idea.
http://defianceohio.terrorware.com/
http://www.noidearecords.com/
HARMONY MOLINA /// Pablo Andres Molina, better known by the stage name Harmony Molina, is a chilean singer and songwriter. His music is frequently minimal in style, domestic and lo-fi orientated. He is known for his intimate live shows and unique stage appearance and released several tapes on his label 'pizza suicide records'.
http://harmonymolina.bandcamp.com/
This is a Matinée show, doors are at 5 pm, show starts at 6 pm.
There will be vegan cake! also, be sure to stay around for schokoladens famous karoake afterwards like every first sunday of the month.
Schokoladen Mitte,
Ackerstr. 169/170
http://littleleagueshows.tumblr.com/