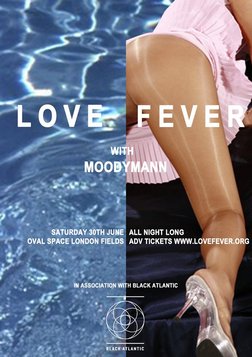 Date
Saturday 30 June 2012 at 10:00pm
Description
After our Sunday afternoon session with Wolf + Lamb at the beginning of the month, we collaborate with Love Fever once again for another big room disco featuring the Motor City enigma we love to love – Moodymann.
Kenny Dixon Jnr should need no introduction – he has a sound all of his own, very different to many of his Detroit peers, releases most of his work on vinyl and is well known for his intimate DJ sets and deeply eccentric behaviour. We have worked with KDJ for the last few years and feel that we may well have found the perfect space for him to do his thing.
The much needed addition to London's proper warehouse scene – Oval Space; who have now installed a pretty serious ventilation system, enlarged the outside terrace and improved the already impressive soundsystem.
Support comes in the form of elusive South London producer Wbeeza, Love Fever's Citizen and, of course, residents A&A.
The Wolf + Lamb party witnessed giant balloons falling from the ceiling to a soundtrack of classic house and some seriously sleazy disco, while we sweated it out together through the haze and red light. You shouldn't really need to know any more.
We are waiting on the powers that be to confirm running times, but we are looking at an all night session, with, quite possibly another guest and a BBQ in the afternoon.
http://www.ticketweb.co.uk/user/?region=gb_london&query=detail&event=510305&interface=
http://www.facebook.com/events/412346775462784/
http://www.black-atlantic.com/
MoodymannWbeezaCitizen