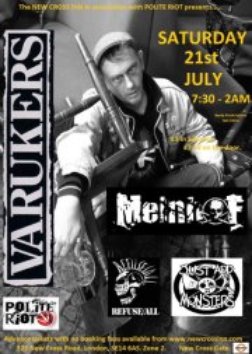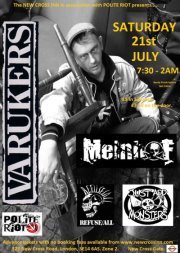 Date
Saturday 21 July 2012 at 7:00pm
Description
The NEW CROSS INN in association with POLITE RIOT presents....
THE VARUKERS
MEINHOF
REFUSE/ALL
JUST ADD MONSTERS
+DJs
Advance tickets £5, or £7.50 on the door.
Available from SEE, WGT & Ticketweb, or with no fees whatsoever from www.newcrossinn.com.
Starts at 7-ish. First band on just before 8. Bands finish before last trains. DJs till 2am.
We have a wide range of draught ciders & ales as well as good old stella! Have a pint & a good time. Here's some more about the bands, have a read & a listen.
THE VARUKERS
http://www.facebook.com/pages/The-Varukers-official/356559087696013?sk=info
Initially known as The Veruccas, the band altered the spelling of their name to "The Varukers" in order to convey more aggression. When recording in the early 1980s, they were part of a broader trend known as "UK 82", Second Generation Punk, or UK Hardcore. Bands such as The Varukers, Discharge, Chaos UK, Amebix, and Charged GBH took the existing 1977-era punk sound and melded it with the incessant, heavy drumbeats and "wall of sound" distortion guitar sound of New Wave of British Heavy Metal (NWOBHM) bands such as Motörhead. The new, harder-edged style also tended to use much darker, more nihilistic, and more violent lyrics, and vocals were often shouted rather than sung.
While the Varukers split in 1989, vocalist Rat and guitarist Biff put the band back together in 1991. Stylistically their 1990s-era music resembled the traditional UK82 style. Since the band had former members of Discharge, a D-beat sound developed as time went on. The band has gone through many line-up changes over the years with the only constant member being Rat on vocals while guitarist Biff has been with the band since 1985. They have recently released a retrospective CD on SOS Records.
Even with Rat splitting his time between The Varukers and Discharge and Biff splitting his time with Sick On the Bus The Varukers continue to tour. They shared a headlining spot with such acts as Broken Bones, The Adicts, Vice Squad and GBH at the ill-fated British Invasion 2k6 concert festival in San Bernardino, California which ended in rioting.
They are currently writing new material for a new album.
MEINHOF
http://www.facebook.com/pages/Meinhof/110169652404575
We all live in London, but we are not an English band anyways. And maybe our name, MEINHOF gives some suggestion, that we come from Germany… We are just the international threat. There are some doubts about or name, that comes from a German activist, Urlike Meinhof… We do not support Rote Armee Fraktion, as we do not support killing people in the name of any political or religious slogans… Our name, MEINHOF is just the name of band… We believe our music and message is pretty aggressive, then MEINHOF as the name fits well to our style… but again it doesn't mean, that we are Urlike Meinhof's fans.
Our music has evolved from digital hardcore to punk sounds, and we do not call it by development. We are just coming back to our roots… In the late 90's, anarcho punk scene seemed to be in decline worldwide and all the revolutionary flames seemed to be burn out… We were looking for something fresh, that could pump a bit of blood into the veins of the dead body. We went into underground electronic, but then we have realised, that people who take part in that scene are not the same revolutionary as their revolutionary, noisy and angry music. Those people say a lot about revolution and blah, blah, blah… Miserable! Anarcho punk scene constantly grows stronger and then declines… and the story repeats. Though punk is always a kind of real threat to the system, and this makes us loyal to punk, not underground electronic.
REFUSE/ALL
http://www.facebook.com/REFUSE.ALL
Refuse/All rose from the ashes of Riot/Clone in May 2005, and have been giging ever since. We have had two albums released so far, both on Active Distribution. The first, "Have a Happy Holiday in Guantanamo Bay" was released in 2006 and the second, "What Lurks Beneath?" was released in 2008. We are currently in the middle of recording our third album (as yet unnamed) which will be released sometime in 2012.
There have been a couple of changes in the line up but with ex members of Riot/Clone, Perjury, Assassins of Hope, NMBD and Active Conspiracy in the band this is by far the best it has been. We are available for gigs,festivals, and benefits so get in touch if you want us to play an event near you.
JUST ADD MONSTERS
http://www.facebook.com/justaddmonsters
Formed in 2008 - Just Add Monsters played their first show after just 2 short rehearsals. Armed with the idea of creating a political melodic hardcore band that were accessible enough not to alienate hardcore fans or punks, but to bridge the gap between the two. They released their debut EP "Today We Call, Tomorrow We Strike" at the end of 2008 - which contains six tracks of blistering melodic hardcore with a social comment.
Now in 2011 the band have a totally new line up - shows are being booked, new songs are being written, recordings and videos will be made soon. Expect to see them in a town near you soon so they can burst your eardrums!