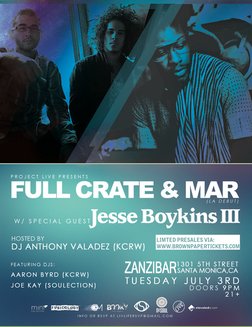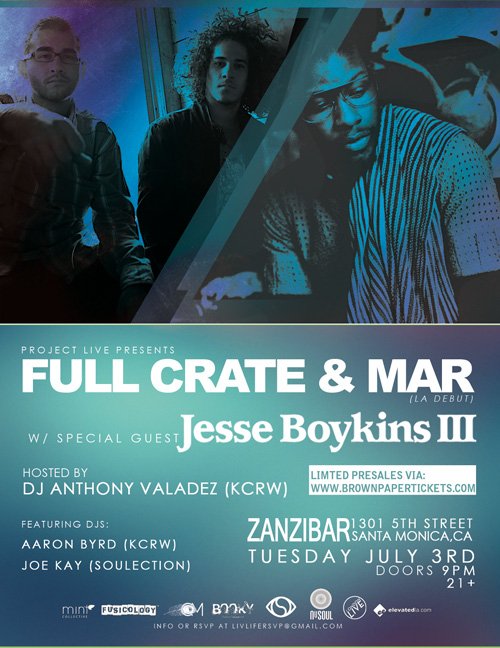 Date
Tuesday 3 July 2012 at 9:00pm
Description
Project Live presents
Full Crate & Mar (LA Debut) + Jesse Boykins III (BET Artist)
Tuesday July 3rd |Zanzibar 1301 5th Street | Santa Monica
Doors 9pm |21+
Full Crate & Mar
Full Crate & Mar are on the international forefront of progressive electronic and soul music. Hailing from Amsterdam, they are on a headlining North American tour.
Since the buzz, which started in 2009 with their independent free release of "She was Fly" which later became part of their debut ep entitled "Conversations With Her", Crate and Mar have worked and performed with artists such as Eric Roberson, Erykah Badu, Mark Pritchard, Electric Wire Hustle, Seiji, The Park, Daru Jones and Jesse Boykins III to name a few and made remixes for Chris Turner, Anthony Valadez and Steve Reich.
Both having a recent solo EP to their name, Crate's "Golden Glasses" and Mar's "Seeing Her Naked", they are currently working on their full length album which will release later this year.
http://fullcrate.net
http://marmusic.net
Jesse Boykins III
Jesse Boykins III has a timeless sound. He shares a point of view that crosses all genres, generations and cultures. Every note and each word in all his recorded works, to his live performance is skillfully crafted evoking emotions that can move any listener across the world to examine and acknowledge those feelings within themselves.
With the success of three great albums,music videos and many collaborations with contemporaries such as The Foreign Exchange,Theophilus London,Full Crate,MeLo-X, Machine Drum,and Phantom Lover he has gained international recognition and built a loyal worldwide following.
Jesse's talent and hard work was also recognized by BET in 2010 when they tapped him to be a major component in their BET Music Matters campaign granting him the distinction of being one of the first Independent Artists to premiere a video on their popular show 106 & Park. Jesse was further rewarded by earning a nomination for a 2010 Soul Train Award, which can be largely credited to his release of the video, "Amorous" (dir. Jarrett Woo) and his worldwide Romantic Movement Tour that year.
http://jbiiimusic.com
Hosted & curated by
DJ Anthony Valadez (KCRW/Plug Research)
Openings sets by
DJ Aaron Byrd (KCRW)
Joe Kay (SOULECTION)
Produced by
Nu Soul Magazine | RK Ent.Group |Elevated LA |London Live |
Christina Maxine | Steve Mojaux |Burning Sands Apparel
Discounted Tickets ONSALE starting June 7, 2012
https://www.brownpapertickets.com/event/253668