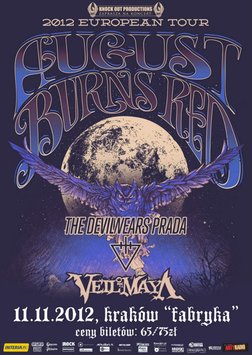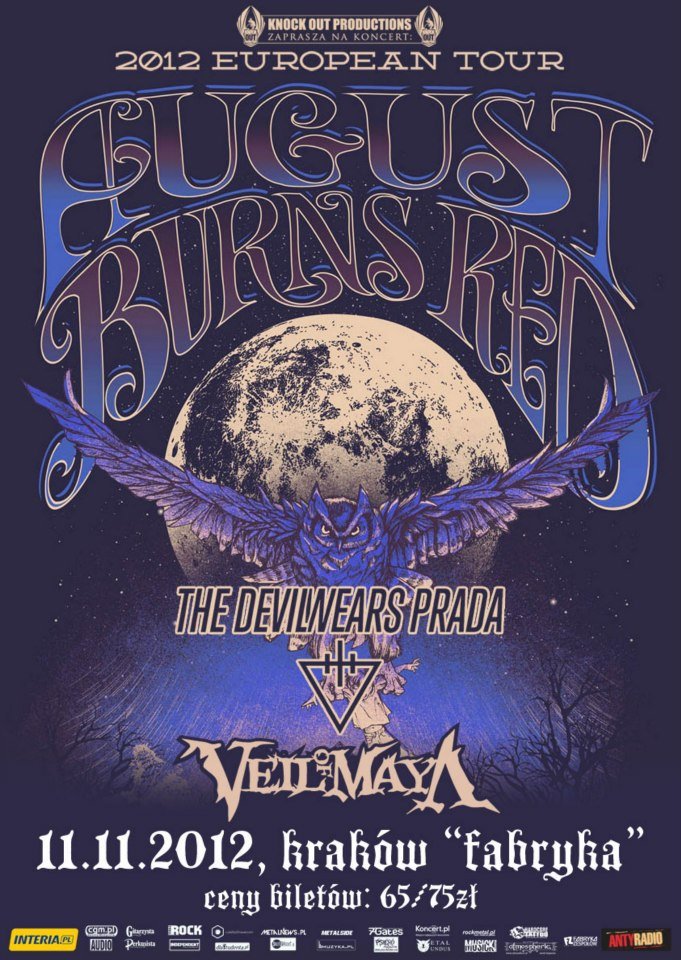 Date
Sunday 11 November 2012 at 6:00pm
Description
AUGUST BURNS RED | THE DEVIL WEARS PRADA | VEIL OF MAYA
Agencja Go Ahead informuje, że formacje August Burns Red, The Devil Wears Prada oraz Veil Of Maya przyjeżdżają jesienią do Polski na dwa koncerty! 10 listopada zespoły wystąpią w warszawskiej Progresji, a 11 listopada w krakowskiej Fabryce!
August Burns Red to metalcore'owa grupa z Manheim w Pensylwanii. Zespół powstał w 2003 roku, kiedy jego założyciele byli jeszcze w liceum. Pierwsze wydawnictwo ABR to EPka "Looks Fragile After All", nagrana w roku 2004. Debiutancki krążek – "Thrill Seeker" – ukazał się rok później, a promował go singiel "Your Little Suburbia Is In Ruins".
21 czerwca ubiegłego roku ukazał się czwarty album w dorobku grupy – "Leveler". W trasę promującą to wydawnictwo zespół wyruszył w towarzystwie zespołów Silverstein, Texas In July, I the Breather i Letlive. W listopadzie August Burns Red pojawią się w Polsce w towarzystwie zespołów The Devil Wears Prada i Veil Of Maya.
The Devil Wears Prada to również metalcore'owa formacja ze Stanów Zjednoczonych. Debiutowali w 2005 roku, a w roku ubiegłym ukazał się ich czwarty album "Dead Throne", wyprodukowany przez Adama Dutkiewicza. Wydanie płyty uprzedziło ukazanie się EPki "Zombie", która znacząco wpłynęła na brzmienie longplay'a. "Dead Throne" to połączenie melodyki poprzednich albumów grupy i wściekłości znanej właśnie z "Zombie". Płyta odniosła spory sukces, docierając nawet do 3 miejsca Rock Albums Chart!
Trzecią kapelą jest Veil Of Maya.
BILETY:
65zł - przedsprzedaż / 75zł - w dniu koncertu
http://www.ticketpro.pl/jnp/muzyka/880310-august-burns-red-devil-wears-prada-whitechapel-krakow.html
Zapraszamy serdecznie na koncerty!