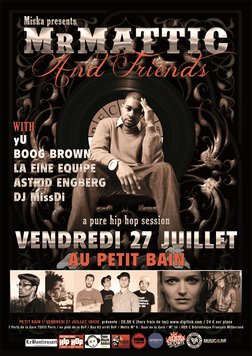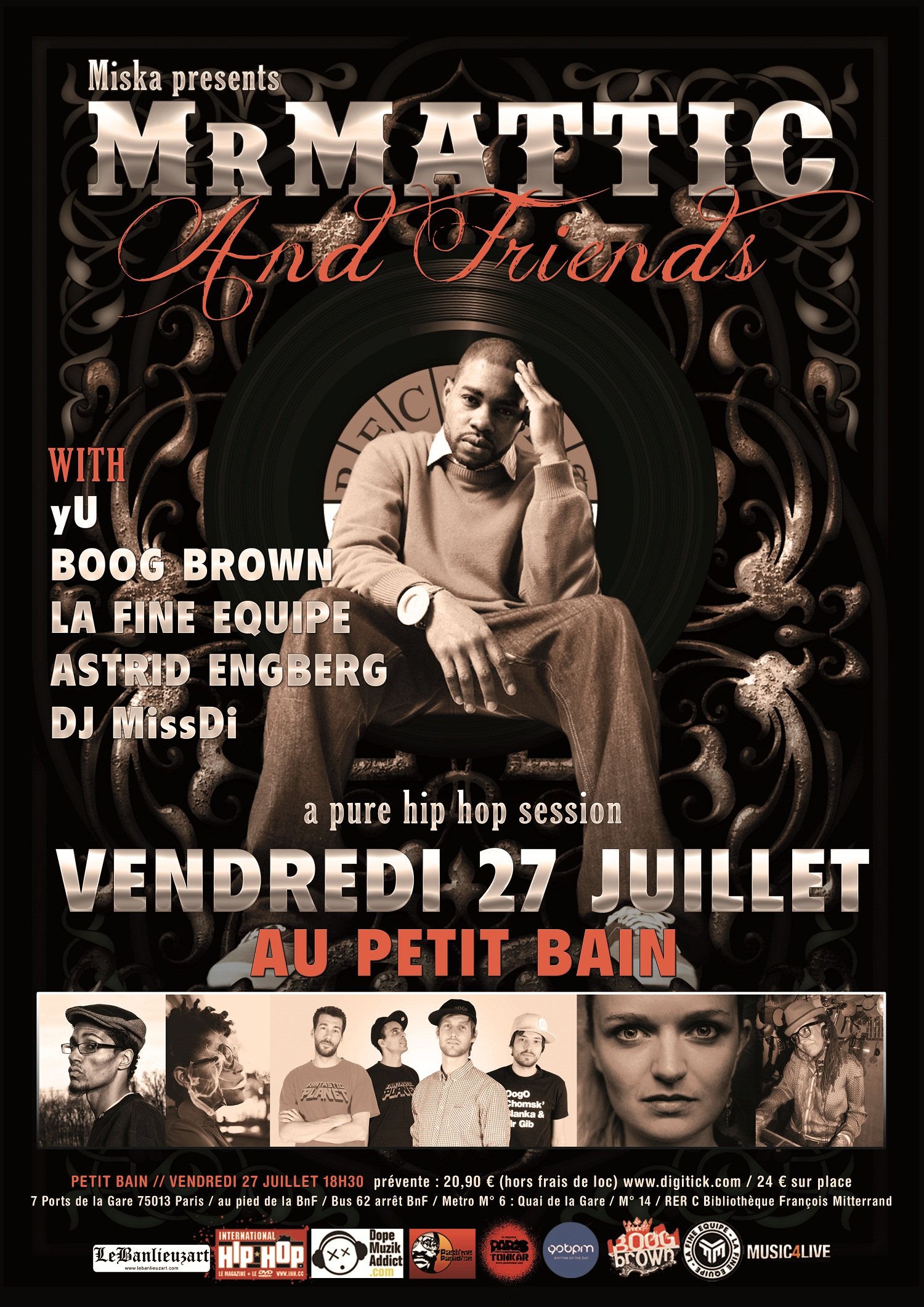 Location
Petit Bain
7, port de la gare, Paris, 75013, France
Tel: +33 (0)1 43 49 67 12
Description
MATTIC un MC qui maitrise l'art et la magie moléculaire de la musique à électrons libres. Il fait parti du groupe ZKPRZ avec Dirty Art Club et Astrid Engberg mais aussi du groupe "The Others". Gravite autour de lui de nombreuses collaborations comme celle de "Crimes of Mind", mais aussi avec Wax Tailor depuis un certain nombre d'années et a participé à plusieurs projets avec la Fine Equipe. Son dernier projet solo "The Abstract Convention" sort en Juin 2012 chez Phonosaurus Records.
yU (why you) du label Mello Music group, fait parti du groupe Diamond District avec Oddisee et X.O. formé à Washington et de 1978ers avec Slimkat78.
Il a réalisé des projets solo comme "Before Taxes" et "The Earn". Parmi les fruits de ses collaborations ont peut retrouver Gilles Peterson, Kev Brown, B.Jamelle et un projet à venir avec (Y) usef Dinero.
BOOG BROWN du Label Mello Music Group native de Détroit, là ou les racines du genre sont nées est considérée comme une Mcee poète et combattante.
Elle s'est fait connaître avec des titres comme The Essence, Dope Girl Magic and The Mirror, a collaboré avec des artistes et producteurs comme Rita J, Apollo Brown, Invicible, Stahhr, Georgia Anne Muldrow et 14KT. Selon ce dernier Boog arbore une vérité et une intégrité dans le Hip Hop.
LA FINE EQUIPE est un groupe de Djs / Beatmakers composé de oOgo, Blanka, Chomsk' et Gib.
Depuis 2008 ils accumulent les projets avec des collaborations telles que Mattic, Onra, ASM, Jneiro jarel, Astrid Engberg, Wax Tailor et bien d'autres qui ont donné naissance à des albums comme Fantastic Planet ou la Boulangerie 1-2.
ASTRID ENGBERG d'origine Danoise est une chanteuse, compositrice et productrice. Elle esquisse des paysages sonores qui sont à la fois imprégnés de ses racines scandinaves et infusés avec les teintes de ses nombreux voyages.
Elle a collaboré avec des artistes comme Aslope, Mattic, La Fine Equipe et Berry Weight. "Life Goes On" le premier d'une série de quatre EPs sort le 15 mai sur Phonosaurus Records
DJ MissDi partage sa musique entre Londres et Paris,
elle a mixé et collaboré avec des artistes comme Madonna, DJ Cut Killer et DJ Dee Nasty