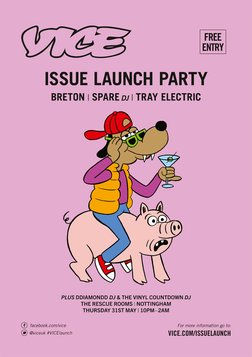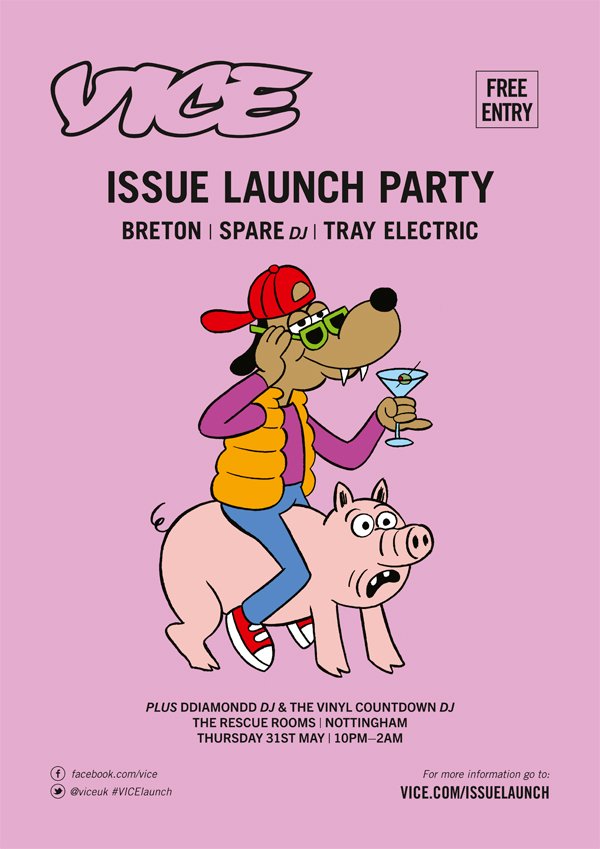 Date
Thursday 31 May 2012 at 10:00pm
Location
Rescue Rooms
25 Goldsmith Street, Nottingham, NG1 5JT, United Kingdom
Tel: +44-(0)871-3100 000
Web: http://www.rescuerooms.com
Description
The VICE Party Tour presents:
Breton Live
Spare Dj
Tray Electric Live
Ddiamondd Dj
The Vinyl Countdown Dj
10PM-2AM
FREE ENTRY
For more info visit - VICE.COM/ISSUELAUNCH
This month we're shaking our issue launch celebrations up. Every month we try to bring you the best in new music from a vast spectrum of genres. We're currently celebrating in 9 different cities each month, so we thought it made sense to turn these monthly celebrations into THE VICE PARTY TOUR.
On the inaugural flight of the VICE Party Tour, we're taking some incredible acts out with us, including hotly tipped Manchester duo Stay+, London audio/visual collective Breton, Irish electronic producer Mmoths, and East London Grime MC, Tempa T.
The VICE Party Tour will be hitting Nottingham on Thursday 31st May, and we've got the amazing Breton headlining. Born from the creative force of musicians and filmmakers Roman Rappak and Adam Ainger, and expanded recently into a multi-instrumental and visual collective with the inclusion of Ian Patterson and Daniel McIlvenny. Breton combine elements of math-rock, post-rock, electro, and tropical beats to deliver an eerie, and truly unique visual and audio experience. We're very excited to announce Breton will be joining us on three nights on the VICE Party Tour, one of them being this special show at The Rescue Rooms.
Support comes from Nottingham's very own Tray Electric, with DJ sets from Spare, Ddiamondd, and The Vinyl Countdown.