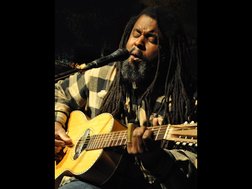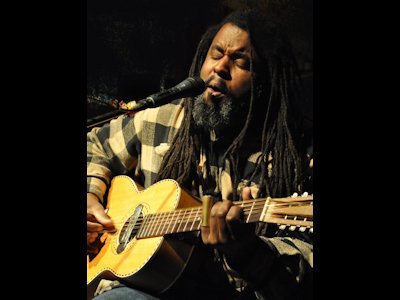 Date
Thursday 7 June 2012 at 8:00pm
Description
BUY TICKETS - $15
The cosmic American love child of Howlin Wolf and Link Wray! Known as a "musician's musician," Alvin Youngblood Hart's praises have been sung by everyone from Bob Dylan to Brit guitar gods Eric Clapton & Mick Taylor. Since the release of his 1996 debut recording, the all-acoustic BIG MAMA'S DOOR, Hart has relayed his eclectic musical message around the world.
Based on the strength of his record debut and the allure of his live shows, Hart received five nominations at the 1997 W.C. Handy Blues Awards. He was nominated for Best New Artist, Best Acoustic Artist, and Best Traditional Blues Artist and his album (BIG MAMA'S DOOR) was nominated for both Acoustic Album of the Year and Traditional Album of the Year. He received the award for Best New Artist. Hart also received two Living Blues Awards that same year. The anticipated sophomore release of TERRITORY in 1998 gave a rousing tribute to all forms of American music and received the Downbeat Magazine Critics' Poll Award for Best Blues Album (though TERRITORY is not a Blues album).
The summer of 1999 found Hart teaming up with celebrated producer Jim Dickinson to begin recording START WITH THE SOUL, a record hailed as a new-breed Southern Rock classic and one that piloted Hart's return to the "sacred garage." START WITH THE SOUL was chosen by the New York Times as one of the top 10 releases of 2000, as well as the BBC's Blues Record of the Year. In 2001 Hart shared Living Blues Magazine's best guitarist honors with fellow road dog Big Jack Johnson. The 2003 release of DOWN IN THE ALLEY garnered a Grammy nomination. Hart continued to diversify his audience by extensively touring as a member of Job Cain, a hard-rocking side project he assembled with guitarist Audley Freed (Cry of Love/Black Crowes) and Nashville musician Robert Kearns (The Bottle Rockets/Lynyrd Skynyrd). In August of 2003, Hart was invited to fill in for Taj Mahal for five nights in Tokyo as a member of Kip Hanrahan's Conjure, the world's longest running jazz poetry ensemble. In 2004, Hart received a Grammy for his philanthropic contribution to the compilation BEAUTIFUL DREAMER: THE SONGS OF STEPHEN FOSTER.
In 2010 Hart joined forces with friends Luther Dickinson (North Mississippi Allstars, Black Crowes) and Jimbo Mathus (Squirrel Nut Zippers, Tri-State Coalition) to form "The South Memphis String Band". The fun-loving and regaling trio was quickly dubbed by the media as an "acoustic super group". Recorded in a borrowed radio station studio while the band was on its first road trip, their debut record HOME SWEET HOME was received with rabid enthusiasm. The 2011 Blues Music Awards (The Blues Foundation) nominated the record for "Best Acoustic Album". The group plans to release a second album in the spring of 2012.
When not touring solo or plugged in with his revered rock trio "Muscle Theory", Hart enjoys researching, collecting, repairing and modifying obscure musical equipment.
http://www.mojomusic.com/alvin/