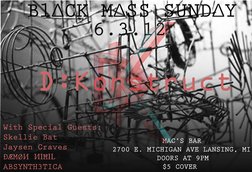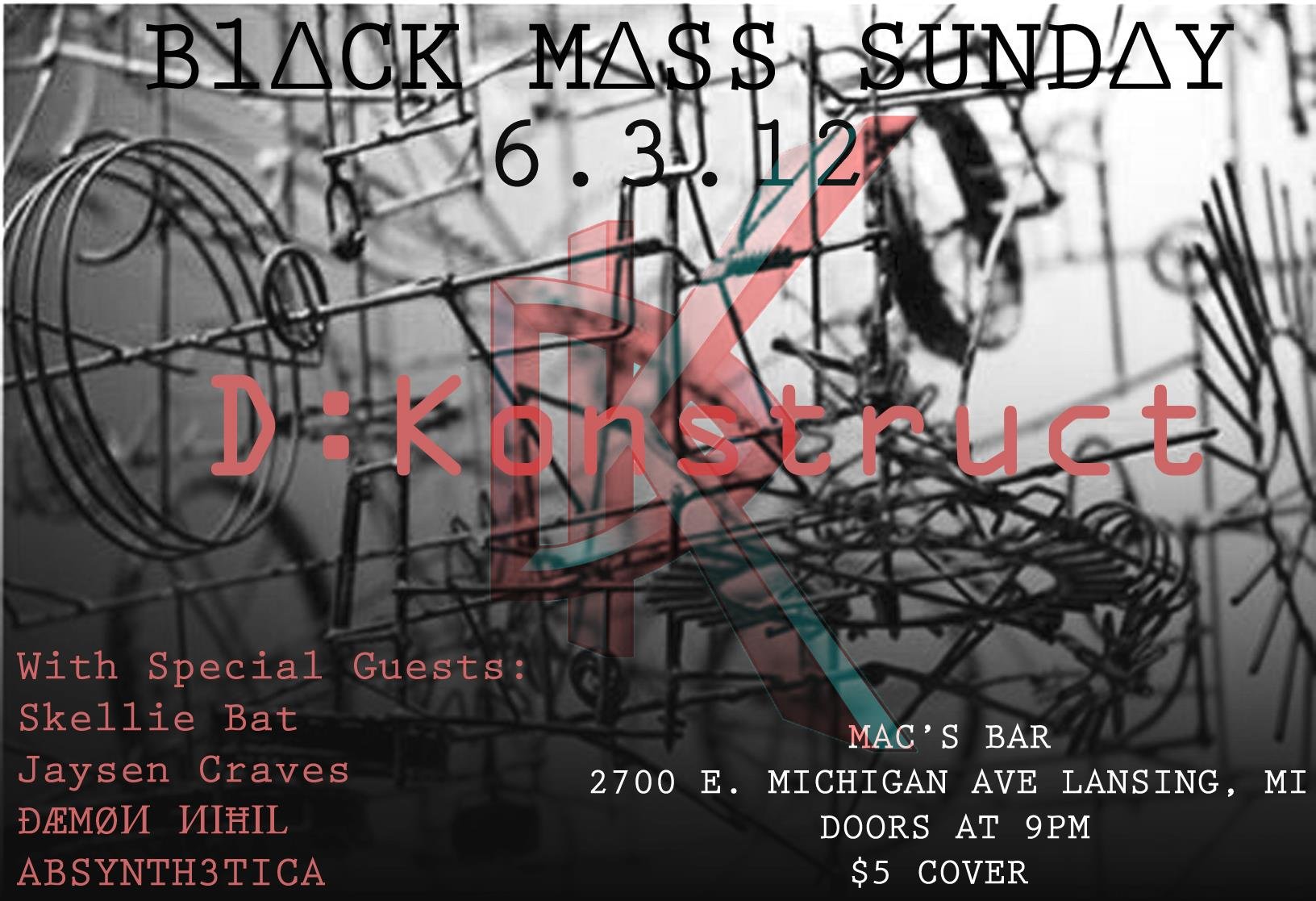 Date
Sunday 3 June 2012 at 9:00pm
Location
Mac's Bar
2700 E. Michigan Ave., Lansing, 48912, United States
Description
▲▲▲▲▲▲▲▲▲▲▲▲▲▲▲▲▲▲▲▲▲▲▲▲▲▲▲▲▲▲▲
† BL▲CK M▲SS † SUND▲Y
▼▼▼▼▼▼▼▼▼▼▼▼▼▼▼▼▼▼▼▼▼▼▼▼▼▼▼▼▼▼▼
▲▲▲▲▲▲▲▲▲▲▲▲▲▲▲▲▲▲▲▲▲▲▲▲▲▲▲▲▲▲▲
† DARK WAVE † INDUSTRIAL † WITCH HAUS † ELECTRO †
▼▼▼▼▼▼▼▼▼▼▼▼▼▼▼▼▼▼▼▼▼▼▼▼▼▼▼▼▼▼▼
† BL▲CK M▲SS † is an avant-garde dance party featuring classic
and newbreed artists from the dark spectrum of music. We invite you
to enjoy a refreshing glass of absinthe and an evening of cold, dark,
haunting and abrasive music.
▬▬▬▬▬▬▬▬▬▬▬▬▬▬▬▬▬▬▬▬▬▬▬▬▬▬▬▬▬▬▬
∆ 1am † SKELLIE BAT (Detroit, Owlcave Records)
Skelllie Bat is perhaps one of Detroit's best kept secrets. Her nostalgic sets strongly appeal to the vintage connoisseur with a library that extends from old school goth, post-punk and death rock to 80s darkwave and industrial. Skellie Bat is one half of Detroit's elusive industrial juggernaut Terror Network and a † BL▲CK M▲SS † veteran, so get ready for an unforgettable dark retrospective.
∆ 12a † D:KONSTRUCT (Detroit, Unaffiliated)
Nominated this year as one of Detroit's best electronic/industrial bands at the Detroit Music Awards, the energetic power trio D:Konstruct first had its beginnings in 1999, when project founder Robert Vandergriff, lead vocalist and song writer, moved to Michigan in search of musicians to form an industrial music project. Over the years, the project morphed from the more industrial sounds of the past to the catchy electro dance music they make today. Eventually, Robert hooked up with Jon Yowell (drummer) from Oppfor and Mike Phipps (keyboardist and backing vocalist) from Pulse State.
∆ 11p † JAYSEN CRAVES (Detroit, Owlcave Records)
Known throughout Detroit as the frontman of OWLCAVE RECORDS band TERROR NETWORK, Jaysen Craves has held a residency at BL▲CK M▲SS since its inception. His hard hitting sets incorporate aggrotech, harsh EBM, old school industrial, goth, and even punk. Jaysen Craves promises to keep the crowd sweating with a relentless cybernetic barrage of aggressive and futuristic dark spectrum music, guaranteed to drill into your cortex with powerful, driving beats and gritty, atmospheric synths.
∆ 10p ÐÆMØИ ИɪĦɪⱠ (Lansing, Owlcave Records)
ÐÆMØИ ИɪĦɪⱠ has been operating clandestinely in Michigan for over 10 years. Founder and archfiend of OWLCAVE RECORDS and † BL▲CK M▲SS † events, ÐÆMØИ ИɪĦɪⱠ has also recorded and performed live with Michigan industrial legends †Σ†ΔИVϟ, experimental dark ambient outfit LE CHEMIN NOIR, and harsh noise collective RUE D'AUSEIL. ÐÆMØИ ИɪĦɪⱠ is always at the razor's edge of dark electronic, bringing the newest and most underground dark spectrum music to the dance floor. Blending electro-industrial, darkwave, EBM, techno, and witch house into a dense, kaleidoscopic, and sinister sound.
∆ 9pm † DJ ABSYNTH3TICA (Lansing, Owlcave Records)
Absynth3ticA emerged from the shadows of a town in southern Michigan about 3 years ago. In that time he's become a force to be reckoned with, spinning everything from psybient to aggrotech. Whether you catch him at Black Mass Sunday, a house party, a Toledo night club, or even somewhere in the Metro Detroit area, You can be sure to hear a bass heavy mix that will keep you on the dance floor. He's worked with the likes of DJ's SKETCHOPZ, TET VON DRUNKENBURG, MASSIFFECT, VOID 6, MAXX EVIL, and GLITTER MAGIC/MIND CONTROL FREAK, among many others, as well as doing shows for companies including PLURRFECT PRODUCTIONS and TOXIC DETROIT. If you aren't ready to rage, get the fuck back, because Absynth3ticA's sets are always filled with the hardest kicks, sickest drops, heaviest synths, and the Catchiest rhythms. But if you're looking to lose control, Come on out and witness the Chaotic Stylings of DJ Absynth3ticA.
$5 18+ w/ ID
$7 Lucid Absinthe Supérieure (21+)
BOOKING: musikistmacht@gmail.com
† BL▲CK ♦ M▲SS † EVENT PROTOCOL:
† BL▲CK ♦ M▲SS † events are a celebration of the dark styles of music and expression and we intend our parties to reflect this. Please
attend in appropriately dystopic attire or at least wear black.
At the discretion of the † BL▲CK ♦ M▲SS † door staff we
reserve the right to deny entry based on dress code.
Cameras and recording equipment are not permitted without a press
pass pre-approved by the owner of Mac's Bar and the † BL▲CK ♦
M▲SS † staff.
If you would like to obtain a press pass please contact
musikistmacht@gmail.com for more information.
All † BL▲CK ♦ M▲SS † events are anti-racist, and LGBTQIA
friendly. We hope to create a safe environment for people of all color,
sexes, and persuasions.
Mac's Bar
2700 E. Michigan Ave, Lansing, MI 48912
View Map · Get Directions