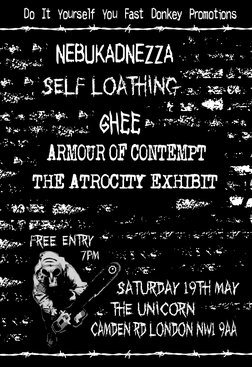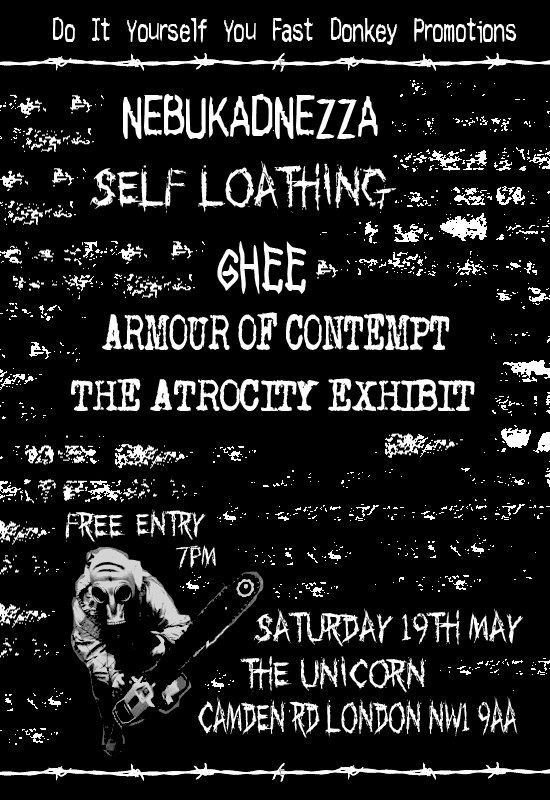 Date
Saturday 19 May 2012 at 7:00pm
Description
A NIGHT OF THRASH/GRIND/PUNK
with!
NEBUKADNEZZA
Thrashed up 3 piece, chaotic blasting with full speed ahead riffing and groovy head pounding breakdowns
https://www.facebook.com/nebukadnezza
SELF LOATHING
Power-grinding hardcore with low end bruising fused with high octane punk beats, straight to the point axe to the neck tunage
https://www.facebook.com/selfloathinghc
GHEE
Four greasy bastards who don't mind forming the base ingredient for a shit-hot ring-burner, uncompromising hardcore destroying your mind
https://www.facebook.com/pages/Ghee/138679546254918
ARMOUR OF CONTEMPT
Grinding powerviolence, together with dissenting D-beats and head shattering drum blasts leading you to the altar of violence
https://www.facebook.com/pages/Armour-Of-Contempt/108616792552500
THE ATROCITY EXHIBIT
Fast/slow, sludge and grind collide in a whirlwind of maniac riffing with chaotic screeching noise
https://www.facebook.com/theatrocityexhibit
FREE ENTRY!!
SPREAD THE VIOLENCE
:PLAYLIST:
trap them, holyghost, discordance axis, melvins, spazz, saviours, bastards, pig destroyer, void, abscess, agathocles, art of burning water, bastardhammer, magrudergrind, entombed, cursed, disfear, gripe, nasum, lords, william english, his hero is gone, xharoldshitmanx, mindflair, today is the day, old man gloom, martyrdöd, shaken baby, wormrot, zimmers hole, venomous concept, the phantom carriage, iron monkey, keelhaul, goatwhore, skitsystem, cellgraft, borisxjohnson, breach, techno animal, sepultura