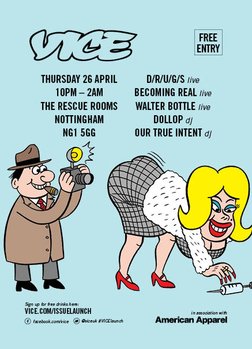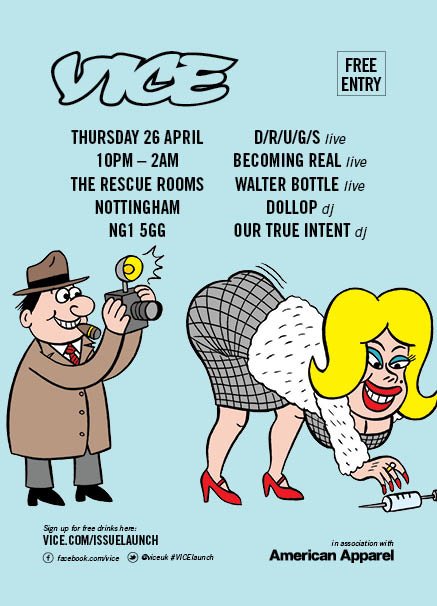 Date
Thursday 26 April 2012 at 10:00pm
Location
Rescue Rooms
25 Goldsmith Street, Nottingham, NG1 5JT, United Kingdom
Tel: +44-(0)871-3100 000
Web: http://www.rescuerooms.com
Description
We've got a big announcement to make. For this month's issue launch parties, we're spreading our wings ever further across the UK. Not only are we hosting the usual free parties in Bristol, Brighton, Leeds, London, Nottingham and Manchester, but we're also hitting up three new cities - Newcastle, Birmingham, and Glasgow.
Seeing as this is a pretty big deal, we thought it would be appropriate to celebrate in style, so we're giving away FREE DRINKS TOKENS for all the parties. PLUS, we've also got some incredible bands playing across the UK for us, including: D/R/U/G/S, Tall Ships, Big Deal, Old Forest, Jonquil, Becoming Real, and many more. All in the space of a week. It's going to be a lot of fun.
Headlining the Nottingham party at The Rescue Rooms is D/R/U/G/S. Originally hailing from Manchester, D/R/U/G/S, real name Callum Wright, makes "pungently psychedelic, yet bracingly direct electro-pop". All of his tracks manage to be both languid and dynamic in nature, and the live show is truly something to behold.
Support comes from some London's Toby Ridler aka Becoming Real, and Nottingham's very own Walter Bottle. Topped off by Dj sets from dollop, Our True Intent, Harrison, and Fallin HZ. See you there.
FREE DRINKS TOKENS: http://vice.com/issuelaunch
FB EVENT: http://www.facebook.com/events/264518086974399/