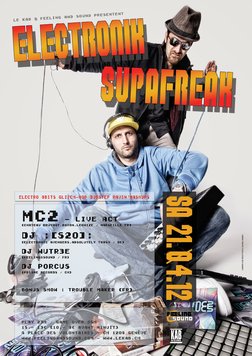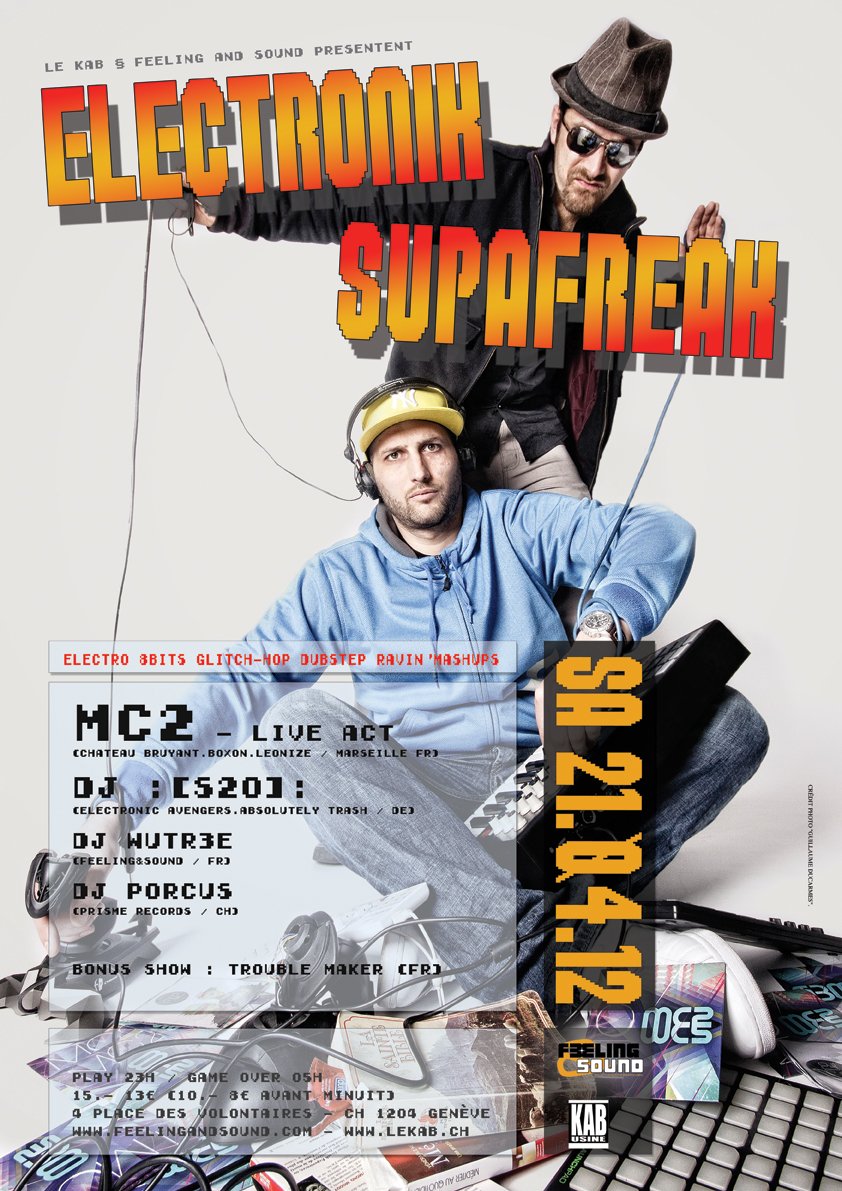 Date
Saturday 21 April 2012 at 11:00pm
Location
L'Usine PTR
4, Place des Volontaires, Genève, 1211, Switzerland
Tel: +41-(0)22-7814004
Web: http://www.usine.ch
Description
ↂ ELECTRONIK SUPAFREAK ↂ
electro / 8bits / glitch-hop
dubstep / ravin'mashups
MC2 - live (Chateau Bruyant, Boxon, Leonize / FR)
Dj :: (Electronic Avengers, Ruhr York City, Absolutely Trash / DE)
Dj PORCUS (Prisme Records / CH)
Dj WUTR3E (Feeling&Sound / FR)
bonus : TROUBLE MAKER (FR)
www.soundcloud.com/mc2prod
www.soundcloud.com/s20
www.soundcloud.com/wutr3e
www.dj.porcus.ch
www.trouble-maker.com
_________________________
KAB Usine
Place des Volontaires, 4
CH-1204 GENEVE
www.lekab.ch
play : 23h
game-over : 05h
insert coin : 10.- / 8€ (avant minuit) 15.- / 13€ (après minuit)
_________________________
_____________
_____
Pour les nostalgiques des joysticks, headbangerz, neo-punks dopés à l'electro et geeks en mal d'exercice physique.
Sur la scène du KAB, le duo marseillais MC2, nouvelle coqueluche de la scène glitch hop et electro, découverte electro du Printemps de Bourges cette année et pour la première fois en Suisse! Remixs pour Missill, Nasser, Glitch Mob, Tambour Battant,...et sortie ce mois-ci de "Beat Emp Up" sur le label Château Bruyant (mélodies nineties, clin d'oeil au passé et production actuelle qui permet à cet EP de rentrer le premier jour dans les charts dubstep). Ils joueront en live et malmèneront joysticks et pads pour un show visuel et sonore des plus rock'n'roll!
Après avoir arpenté les clubs et festivals français dans tous les sens pendant 15 ans (Astropolis, Tokyo Decadance, Torture Garden...), le dj Breton :: s'est installé à Düsseldorf, la ville de Kraftwerk et de Claudia Schiffer! Il est sollicité lorsqu'il s'agit d'envoyer la sauce (tournées avec les Punish Yourself et Teenage BadGirl, after-partys de T.Raumschmiere, I Am X, Fixmer/McCarthy, Front 242, Miss Kittin, Erol Alkan, Birdy Nam Nam, Atari Teenage Riot, Missill, tHe pEneLOpe,..) et se définit lui même : "too punk for the clubs, too club for the punks". Mais rassurez-vous, le vilain garçon mettra tout le monde d'accord sur le dancefloor à coup de power-electro, mash'up délirants et techno-punk ravageuse!
Dj Porcus et Dj Wutr3E aux manettes en début de partie et pour le combat final...
Et en bonus, Mr Trouble aux pinceaux.
Insert coin and play...
mc2