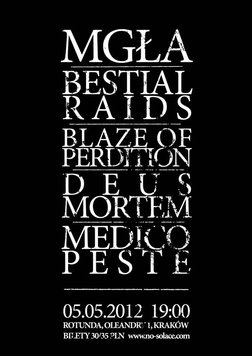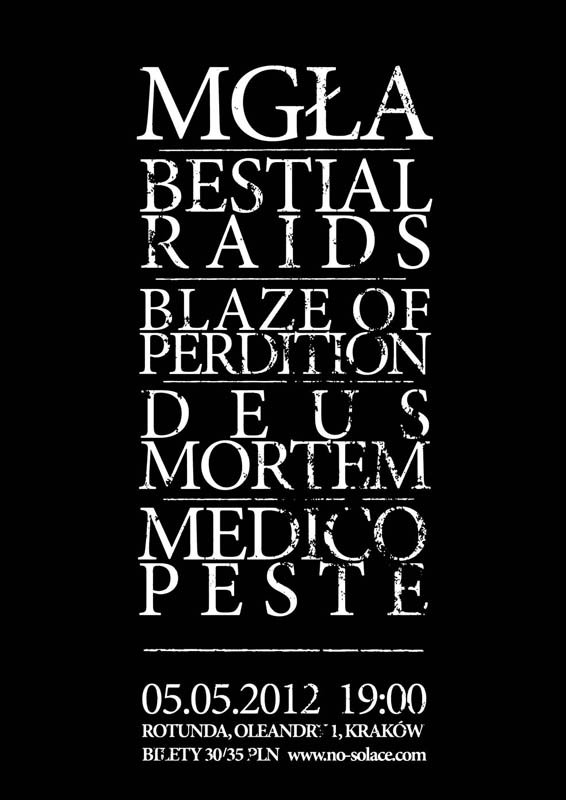 Date
Saturday 5 May 2012 at 7:00pm
Location
Rotunda
Oleandry 1, Kraków, 30-060, Poland
Tel: +48 (0-12) 633-61-60
Description
Koncert:
Mgła
Bestial Raids
Blaze of Perdition
Deus Mortem
Medico Peste
05.05.2012, Klub Rotunda / Kraków. Start o godz. 19:00.
Bilety 30 zł w przedsprzedaży / 35 zł w dniu koncertu.
Przedsprzedaż w klubie od 13.04.2012 lub via Allegro: http://allegro.pl/show_item.php?item=2263029218
Log in to Last.fm or sign up to leave a shout.
Bestial Raids: http://soundterrorshots.blogspot.com/2012/07/bestial-raids-live-in-krakow-05-05-2012.html

Actions

Blaze of Perdition: http://soundterrorshots.blogspot.com/2012/05/blaze-of-perdition.html

Actions

Actions

jest już wszystko na moim flickrze.

Actions

http://www.flickr.com/photos/berud/ doszły foty Blaze of Perdition

Actions

Przekomicznie to wyglądało :D

Actions

http://www.flickr.com/photos/berud/ doszły foty Deus Mortem

Actions