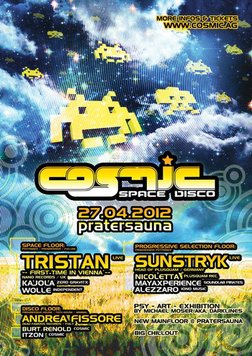 Date
Friday 27 April 2012 at 10:00pm
Description
Acts (Auswahl):
● TRISTAN ● SUNSTRYK ● ANDREA FISSORE ● KAJOLA ● ALEZZARO ● MISS BUTTERFLY aka NICOLETTA ● ITZON ● MAYAXPERIENCE ● BURT RENOLD ● WOLLE ●
Specials:
★ TRISTAN first time in Vienna ★ PSY ART Exhibition by DARKLINES ★ 100 FREE PLUSQUAM CD Compilations ★ NEW MAINFLOOR @ Pratersauna ★ BIG CHILLOUT ★ PROGRESSIVE SELECTION FLOOR ★ 3 FLOORS ★ neu: Würstelstand in der Pratersauna ★
★ Am Freitag den 27.April präsentiert Cosmic die beiden Electronic Acts Tristan und Synstryk in der Pratersauna. Tristan spielt zum allerersten Mal live in Wien, Darklines eröffnet seine Psy-Art-Ausstellung im PS Artspace, die ersten 100 Gäste bekommen eine CD der Plusquam Label Group und es gibt einen neu umgebauten größeren Dancefloor.
★ Tristan aus England zählt zu den weltweit aktivsten Künstlern der Psytrance Szene. Mit über 20 Jahren Erfahrung spielte der charismatische DJ, Produzent und Live Act rund um den Globus aber bis jetzt noch nie in Wien. Jetzt ist es endlich soweit und Cosmic begrüßt mit Tristan einen der prägendsten Acts. Zusätzlich sorgen Kajola und Wolle für hochkarätige Unterstützung am Space Floor.
★ Und Synstryk kommt nicht nur ein begnadeter Live-Act und Produzent sondern auch der leidenschaftliche Labelchef der Progressive Psy Schmiede Plusquam Records. Er beschallt mit Kollegin Miss Butterfly aka Nicoletta, Iono Music DJ Alezzaro und Mayaxperience lautstark den Progressive Selection Floor.
★ Der Disco Floor bietet wie gewohnt Abwechslung quer durch die Genres Tech-house, Minimal und Techno. Andrea Fissore aus Italien der bereits am Que Pasa die Stimmung zum Kochen brachte serviert gemeinsam mit den Cosmic Residents Itzon und Burt Renold feine Tunes.
★ Außerdem öffnet der Pratersauna Artspace seine Pforten für die Eröffnung der Psy Art Ausstellung von Michael Moser aka Darklines. Michael Moser ist Maler, Grafik Designer, Deko-künstler, Illustrateur und Musiker in Personalunion. Ganz gleich ob bei analogen Arbeiten, digitalen Projekten oder Kollaborationen mit seinem Bruder Andreas Moser aka Materia, seine Inspirationen und Ausdrucksmöglichkeiten sind vielfältig. Neben einer eigenen biologischen Bekleidungslinie entstanden während der letzten Jahre zahlreiche beeindruckende Werke von denen jetzt einige zum ersten Mal der Öffentlichkeit vorgestellt werden.
●●● SPACE FLOOR ●●●
● psytrance / progressive / fullon ●
★★ TRISTAN live (Nano Records | UK)
KAJOLA (Zero Gravity | Austria)
WOLLE (Independent | Austria)
●●● PROGRESSIVE SELECTION FLOOR ●●●
● progressive psytrance ●
★★ SUNSTRYK live (Head of Plusquam Records | Germany)
MISS BUTTERFLY aka. NICOLETTA (Plusquam Records | Austria)
ALEZZARO (Iono Music | Austria)
MAYAXPERIENCE (Soundlab Pirates | Austria)
●●● DISCO FLOOR ●●●
● techhouse / minimal / electro ●
★★ ANDREA FISSORE (Dead Famous Records | Italy)
ITZON (Cosmic | Austria)
BURT RENOLD (Cosmic | Austria)
★★★ PSY-ART- EXHIBITION by ★★★
★ Michael Moser aka Darklines @ PS Art Space ★
● Projections by ZOID
● Deko by COSMIC
● Visuals by THE FUNNY ASTRONAUT
●●●●●●●●●●●●●●●●●●●●●●●●●●●●●●●●●●●●●●●●●●●●●●●●●
Facts:
Start: Freitag 27.April 2012, ab 22:00 Uhr
Ort: Pratersauna, Waldsteingartenstraße 135, 1020 Wien
Tickets:
Vorverkauf (limitiert):
ab 05.04.2012
€ 13,00 @ "Aurin" (Kircheng. 25, 1070 Wien) und
wienXtra Jugendinfo (Babenbergerstr. 1, 1010 Vienna)
AK: € 15,00 < 00:00 Uhr > € 17,00
!!! 100 GRATIS PLUSQUAM RECORD CDs für die ersten 100 Abendkassa Gäste !!!
Eintritt ab 18 Jahren!
● Info:
http://www.cosmic.ag/
● Facebook:
http://www.facebook.com/space.disco
●●●●●●●●●●●●●●●●●●●●●●●●●●●●●●●●●●●●●●●●●●●●●●●●●