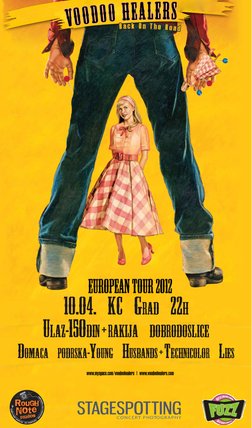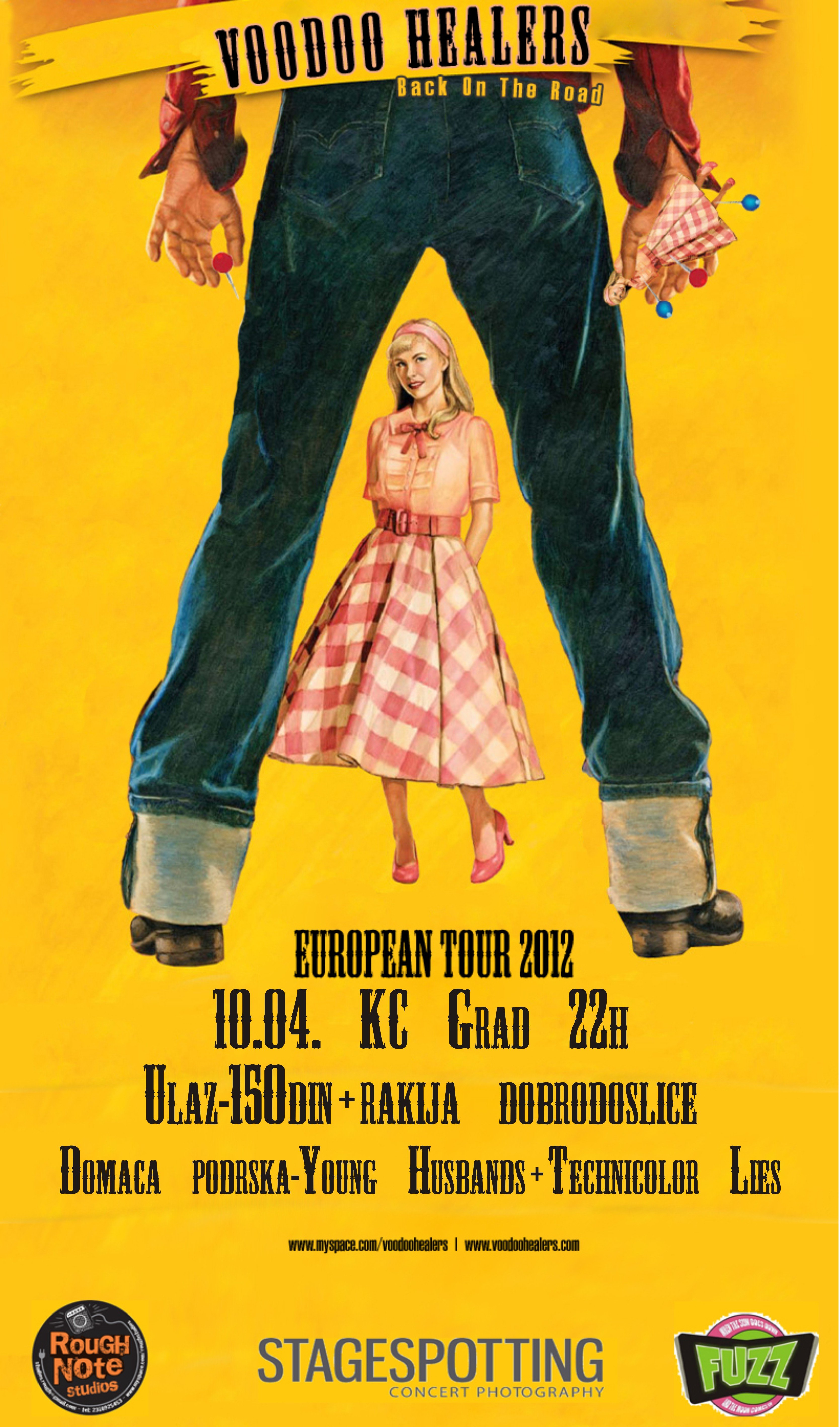 Date
Tuesday 10 April 2012 at 10:00pm
Location
KC Grad
Beograd, Serbia
Description
Voodoo Healers su "High Energy Rock'n'Roll" bend iz Soluna (bar tako oni opisuju svoju muziku). Nastali su 2000. godine ali tek od 2003. počinju da funkcionišu kao pravi bend. Voodoo Healers su verovatno jedini bend iz Grčke čija muzika i energija koju nose naliči na bendove kao što su Stooges, MC5, Ramones, Clash, Dead Boys, Motorhead, Damned...
Izdali su dva albuma do sada Living in Dogville (2006) i Dawn of a Day (2011) i učestvovali u tribute kolekciji posvećenoj legendarnom Sky "Sunlight" Saxon-u ( idejnom tvorcu benda the Seeds ) sa obradom njegove pesme "Out Of The Question".
Voodoo Healers se smatraju za bend koji je non stop na putu, sa dve velike turneje svake godine, po Grčkoj i ostatku Evrope! Do sada se mogu pohvaliti da su svirali sa velikim bendovima Rock'n'Roll scene. Ostaju energicni - što je i njihov zaštitni znak, uvek spremni za put i širenje pozitivnih vibracija kroz njihovu muziku ostatku sveta.
Bend čine:
"Fast" Chris Pentelas (Guitar/Vocals)
Dinos Dovas (Guitar)
Dionisis Ioannidis (Bass Guitar)
Nick "The Sloth King" Tziataras (Drums from Hell)
Voodoo Healers
http://www.reverbnation.com/voodoohealers

http://www.myspace.com/voodoohealers

http://www.facebook.com/V.HealersSKG
Podrška našim prijateljima iz Soluna će biti bendovi:
Young Husbands (punk'n'roll)
http://www.facebook.com/younghusbandsmusic
Technicolor Lies (alternative punk rock)
http://www.facebook.com/technicolorlies
Ulaz: 150 rsd (uz rakiju dobrodošlice)