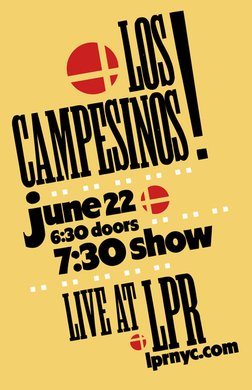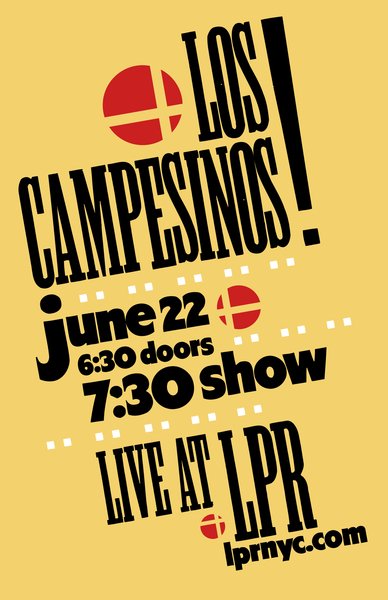 Date
Friday 22 June 2012 at 6:30pm
Location
(le) poisson rouge
158 Bleecker Street, New York, 10012, United States
Tel: 212-505-FISH
Web: http://lePoissonRouge.com
Description
Los Campesinos!
w/ Yellow Ostrich
6.22.12
Los Campesinos!
A lot can happen in the course of two years. People walk out of your life, people special to you – people it's difficult to imagine your world without. Sometimes, they come back. But when they do, they're not who they once were. Soft features have chiselled. That teenage flush around the cheeks has faded. And suddenly, that ghost that mooched around inside your head is gone, replaced by something, somebody new.
'Hello Sadness' is the fourth record by Los Campesinos!, and if 2009's 'Romance Is Boring' marked a giant step on from their genesis – seven kids and a glockenspiel, ricocheting off the four walls of a Cardiff rehearsal room – 'Hello Sadness' constitutes another step, and a turn of the corner. Yes, these 10 tracks cover what we are coming to recognise as core Los Campesinos! concerns – love, loss, heartbreak, football (always football). But this is a record that's wiser and more focused than its predecessors, confident in its abilities and clear in its aims.
Yellow Ostrich
"At some point you wonder if maybe the grass is greener, and then you go somewhere else and you realize it's not that much greener - so what do you hope for now?" so says Yellow Ostrich's singer-guitarist Alex Schaaf, summing up the themes of his band's powerful new album, Strange Land.
Schaaf knows what he's talking about - he moved to New York from Wisconsin in 2010, got a bunch of acclaim for the Yellow Ostrich album The Mistress, signed to Barsuk and toured the U.S. several times with his hot new band: multi-instrumentalist Jon Natchez and drummer Michael Tapper. Still, wherever you go, there you are, and that's what Strange Land is all about.
6:30pm Doors // 7:30pm Show // All Ages
$20
For more information or to purchase tickets, please visit http://www.lepoissonrouge.com/events/view/3242