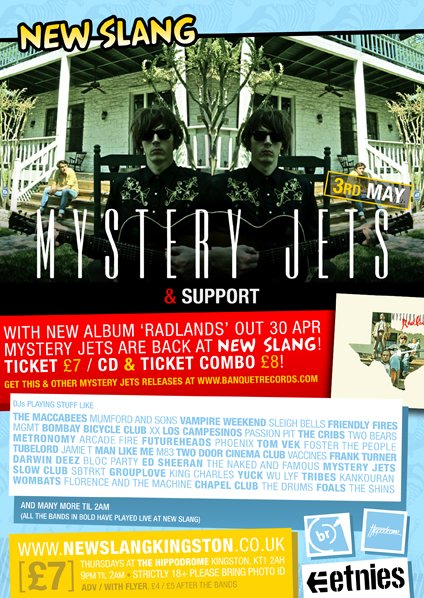 Date
Thursday 3 May 2012 at 9:00pm
Description
Mystery Jets are coming back to town!
The band are real New Slang faves and they're no strangers to New Slang, Banquet or Kingston, having played a couple of instores, this being their third New Slang gig. The local band have a rich history in Kingston. Despite Kai Fish playing a New Slang show recently, it'll be nearly a year a since the full band has been in town. We're delighted to have them back.
This is an album release show to promote new album Radlands. What we've heard to date hints this is evert bit as good as we'd hoped for. We've a stupid good deal on this one. You can get yourself a ticket for the show and a copy of the new CD 'Radlands' for only £8..... £8!
Mystery Jets have some big shows this summer, including a Brixton Academy show as part of their UK tour, headlining Truck Festival, the Great Escape festival. and more. But we're very happy they've come back to New Slang for an album release show. Support them back by picking up the album and ticket combo.
Support TBC
We are expecting this one to sell out in advance
After the bands we love to play indie/alt hits spanning a range of Maccabees to King Charles, M83 to Pulled Apart By Horses, until 2am!
Doors at 9pm. Please Note: The Hippodrome is an 18+ Venue, Valid PHOTO ID will be required