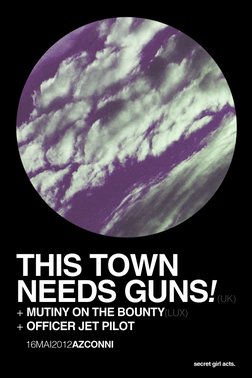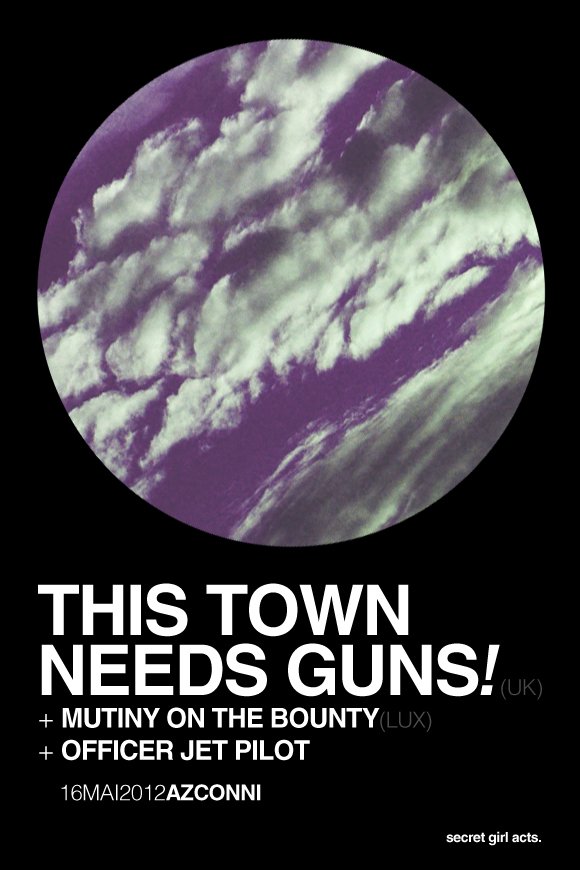 Date
Wednesday 16 May 2012 at 8:00pm
Location
AZ Conni
Rudolf-Leonhard-Straße 39, Dresden, 01097, Germany
Tel: +49-(0)351-8045858
Description
Aufgrund der großen Nachfrage ab jetzt auch hier die Möglichkeit der Ticketvorbestellung via booking@azconni.de (codeword: TTNG)
THIS TOWN NEEDS GUNS from Oxford, England are:
Tim Collis - Guitar
Jamie Cooper - Bass
Chris Collis - Drums
Henry Tremain - Vocals, Guitar
Over the years the band's musical style has progressed and changed, although the focal point of their style has been the guitar work of Tim Collis interspersed with, at points, highly complex drumming and sparse, melodic bass. Early releases however, featured more distorted chord progressions, as well as a strong focus on the interlinking melodies of both Collis and Smith's guitars. More recently however, the band's music has become more technical; making more use of asymmetrical time signatures and complex accenting between guitar and drums, plus an abandonment of distortion and guitar effects, giving way to more complex melodies. The Sydney Morning Herald describes the band's music as having "intricate pop guitar work, with a touch of jazz and Spanish influences".
https://www.facebook.com/This.Town.Needs.Guns
http://thistownneedsguns.bandcamp.com/
MUTINY ON THE BOUNT (Lux)
http://mutinyonthebounty.bandcamp.com/
OFFICER JET PILOT (Dresden)
https://www.facebook.com/officerjetpilot