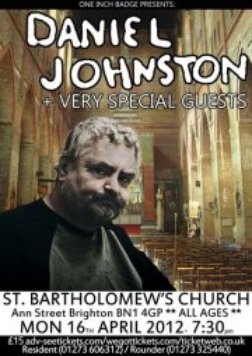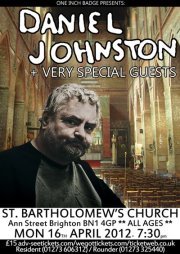 Date
Monday 16 April 2012 at 7:30pm
Location
St Bartholomew's Church
Brighton, United Kingdom
Description
MONDAY 16th APRIL // MONDAY 16th APRIL
A unique performance in a truly beautiful setting...
One Inch Badge presents:
DANIEL JOHNSTON
+ Very Special Guests
Daniel Johnston – the manic-depressive from West Virginia in his early fifties has had a wonderful life and a very creative one as an artist, songwriter and performer who's become a cult figure admired and performed by the likes of Tom Waits, Sonic Youth, and Kurt Cobain. Seven tribute / cover albums in recent years of his 500+ songs and the major motion picture ("The Devil & Daniel Johnston) on his life has brought renewed interest to his music, life and his art.
At this momentous event, Daniel will be performing his music in the sublime and breathtaking setting of St. Bartholomew's Church (the tallest purpose built church in the UK!), backed by a full band of distinguished guests.
MONDAY 16th APRIL 2012
at St. Bartholomew's Church, Brighton
Ann Street, BN1 4GP
£15.00 advance // 7:30pm // All Ages
TICKETS: http://www.seetickets.com/Event/DANIEL-JOHNSTON/St-Bartholomew-s-Church-Brighton/616836 // http://www.wegottickets.com/event/154748 // // www.ticketweb.co.uk // www.gigantic.com // Resident Music (01273 606312) // Rounder Records (01273 325440)