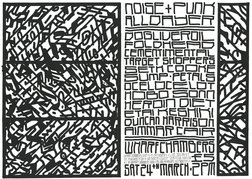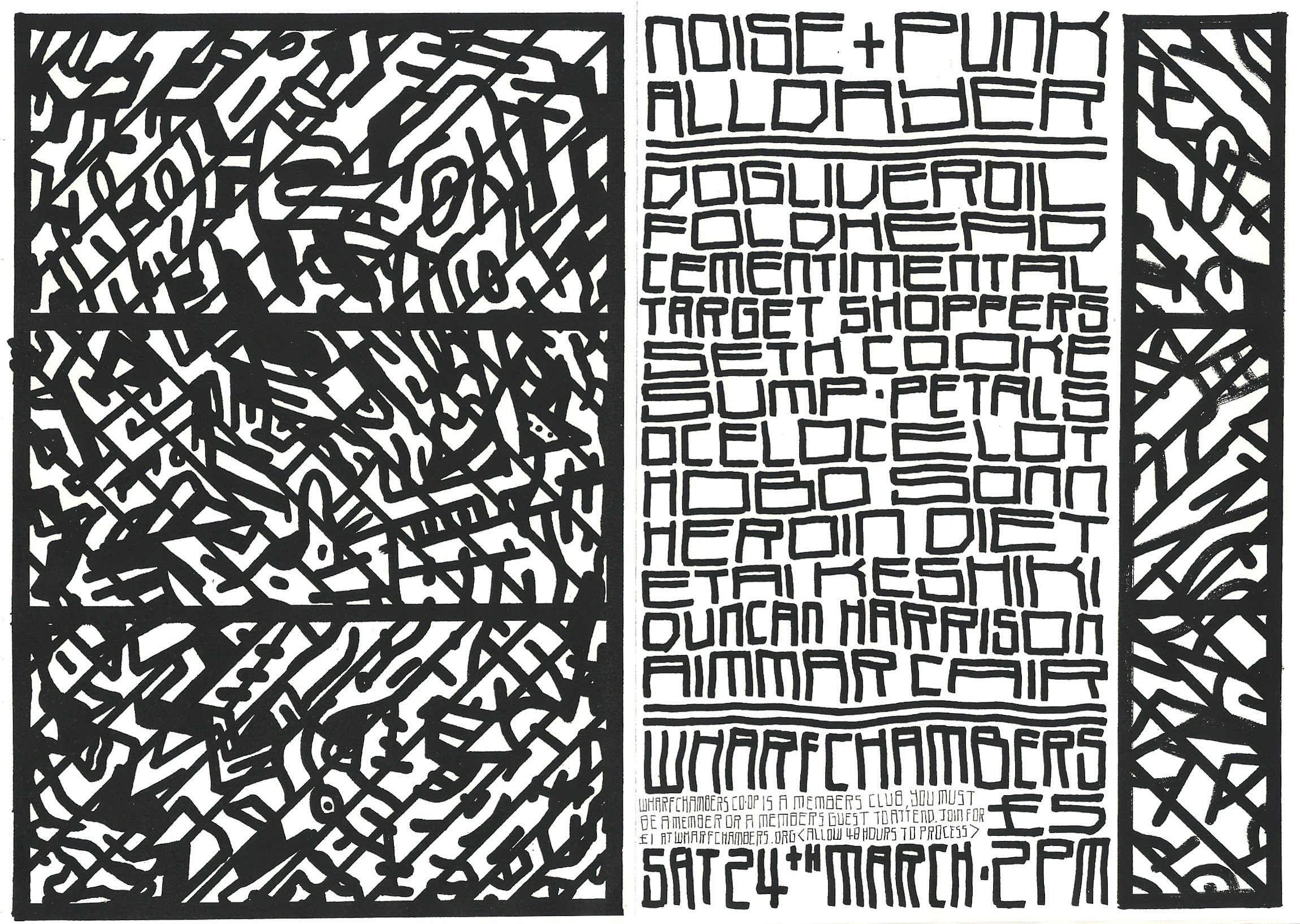 Date
Saturday 24 March 2012 at 2:00pm
Location
The Fenton
161 Woodhouse Lane, Leeds, LS2 3ED, United Kingdom
Tel: 0113 2453908
Description
2pm - Doors
3:00pm - Aimmar Cair - Wonky Clown Toanz
3:45pm - Etai Keshiki - Noisy hardcore 4-piece
4:30pm - Foldhead - Debut solo performance of Paul Walsh, who can be found these days playing in Early Hominids with Neil Campbell. Garbled electronic chaos and demented synth splutter.
5:15pm - Ocelocelot - "Solo project of the (un)disputed foremother of the northern-industrial-psych-improv supersubculture, Mel delaney embarks on another temporary exile from Ashtray Navigations and termite club activities" - Singing Knives
6:00pm - Petals - "Field recordings, ghostly instrumentation, what may be speech in slo-mo, various clatterings, feedback and pure-tone bass all conspire successfully to net your attention and, when you are rapt, whisper a brief but compelling description of another world." - Radio Free Midwich
6:45pm - Hobo Sonn - "Brighton's Hobo Sonn (aka Ian Murphy) is an artist whose music is in a state of constant homemade handcranked flux. For someone who sounds like he's often working at a micro/ground minimalist sound-selector level, fiddling in the fragments, its uncanny how out there and other his records sound." - The Quietus
7:30pm - Target Shoppers - Stoke based noise rock trio play their first show in 11 years, shit-fi shenanigans with members of SUBS, Stuckometer & Ashtray Navigations
8:15pm - Duncan Harrison - Tape glop and murky drones from High Wycombe.
8:40pm - Seth Cooke - Seth Cooke is a Leeds-based musician who improvises, performs and records using a variety of electronics and percussives.
9:00pm - Dogliveroil - "Possible clarion call of the yet again posited reformation of the legendary stoopid noise band from Choke ON Stench, fronted by the even more legendary Marky Loo Loo, more a conundrum than a human, with Phil Todd and Joincey of Stuckometer and Coits 'fame' and whoever else fancies being along for the ride. The potteries answer to Smell and Quim basically. It all depends if Loo Loo is willing to take 'The Sex Pest' as he so lovingly calls his 4x4 out for a spin. Have hope. You'll laugh. You'll cry. You'll Thrice. You'll Chrone." - Termite Club
9:30pm - Heroin Diet - New Manchester punk trio
10:00pm - Sump - Blackened Punk Stomp featuring members of Cryptic Salve Band and White Medal.
10:30pm - Cementimental - Harsh Noise - Circuit Bending - Rough Music
11pm - End
£5 entry. Wharf Chambers Co-operative Club is a members' club, and you need to be a member, or a guest of a member, in order to attend. To join, please visit wharfchambers.org. Membership costs £1 and requires a minimum of 48 hours to take effect. The venue is now Wharf Chambers, NOT The Fenton.