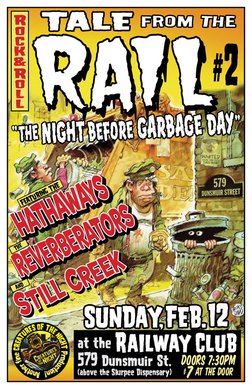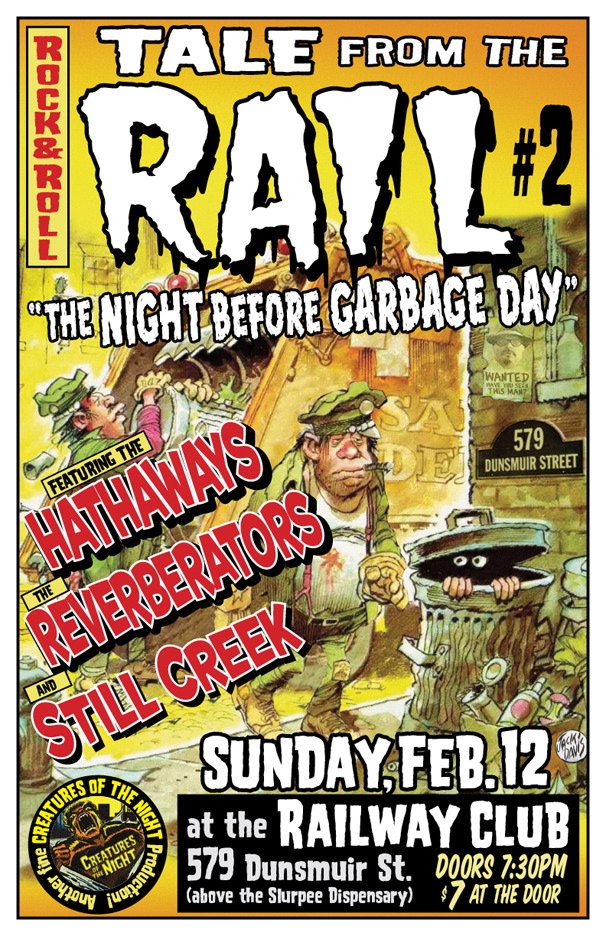 Date
Sunday 12 February 2012 at 7:30pm
Location
The Railway Club
579 Dunsmuir Street, Vancouver, V6B 1Y4, Canada
Description
Creatures of the Night is thrilled to present:
TALE FROM THE RAIL # 2; "The Night Before Garbage Day."
$7 at the door
$5.00 advance available online at:
http://www.northerntickets.com
Charge by phone 604-569-1144,
In person at the Northern Tickets box office,
(located at the Vogue Theatre 918 Granville Street).
Psssst. In case you haven't heard: Sunday is the new Friday. Put off the impending (often recurring) threat of Monday morning reality with a good old fashioned dose of rock n' roll, featuring the Hathaways, the Reverberators.
THE HATHAWAYS originally formed in Uranium City, SK in 1984 for the express purpose of performing the annual Pygmy Paizley Post-Punk Anti-Pop Wedding Party in Vancouver, BC. Recently reformed after a 27 year hiatus, the band has been deeply immersed in rehearsals at a secret facility in Prince Albert and are not only ready for their long anticipated reintroduction into society, they're readier than ever, and, ready to RUMBLE!
Consisting of founding members Adam Hathaway on guitar, Greg "Bezerkshire" Hathaway on vocals, Nick Hathaway on bass and Allesandro "Don" Hathway on drums, the Hathaways have also added newly discovered, long lost half-brother, James "Paul McMaster Phillips" Hathaway on keyboards.
Years of intense hypnotherapy, shock treatments and drug induced comas have helped forge a sound that is as startling as a cold glass of water in the face, yet soothing, like a chilled glass of ESB down your throat. Psycho-delia at its charged, strychnine soaked best, the Hathaways are on parole and coming to a halfway house, booze can or seedy dive near you!
"Ward 81": http://www.youtube.com/watch?v=T469KwI4v9Q&feature=related
"Little White Lies": http://www.youtube.com/watch?v=UiIeIY9kf-8&feature=related
Since 1998, the rockabilly-tinged surf-fury of THE REVERBERATORS has been known to incite involuntary hip shaking and spontaneous limbo competitions in and around Vancouver. No injuries have been reported. So far. Uniquely, the band has always featured the same instrumental line-up, but with different members on sax and bass duties throughout the years. The band's third album, El Burro, released in 2009, features Francis Chopper Sivertz (Deadcats, Little Guitar Army) on guitar, Frank Nichols on drums, Pat Darcus on bass, and Ron Froelich on tenor sax, with guests Micheal Flunkert on lap steel guitar and Sandy Benson on trumpet. Stretch beforehand—and get ready for a limbo throw down!
http://www.myspace.com/thereverberators
http://radio3.cbc.ca/#/artists/The-Reverberators
Posters, Buttons and "Creatures" logo by Scott Beadle!