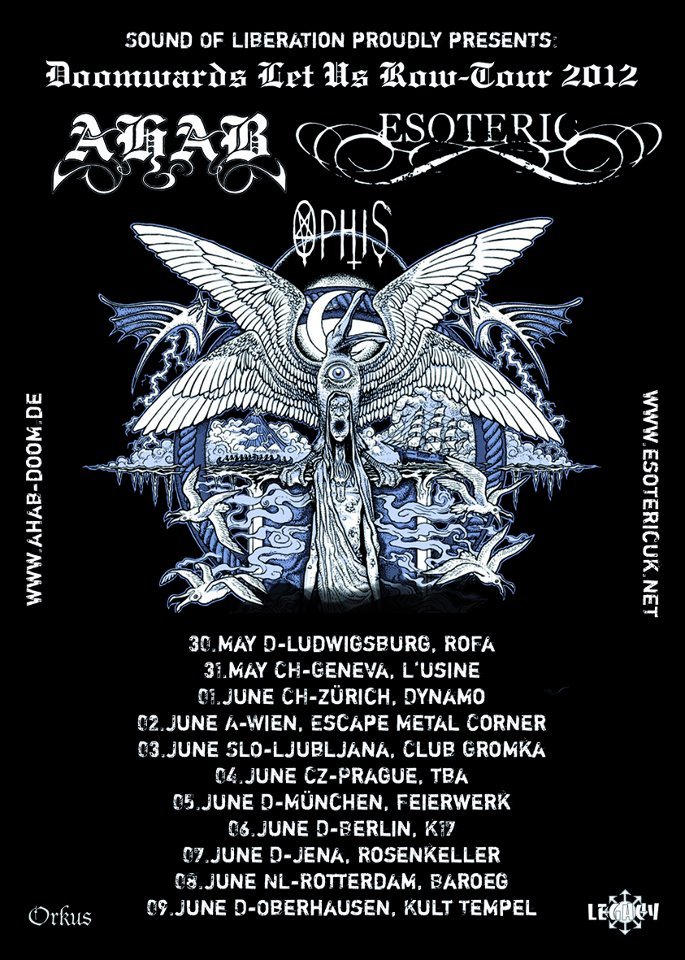 Date
Sunday 3 June 2012 at 9:00pm
Description
Ahab (DE) - funeral doom metal
www.ahab-doom.de
www.myspace.com/ahabdoom
In what amounts to a monumental wake of despair, Germany's nautic doom pioneers AHAB have unleashed the third and final instalment of what they refer to as their "Nantucket Saga", THE DIVINITY OF OCEANS. The adventure that began with The Oath-EP in 2005 and continued through The Call Of The Wretched Sea in 2007 has come to its logical and bitter end. Not that this is the end of AHAB, but rather the final necessary step before starting a new chapter. Inspired this time out by the books "In The Heart Of The Sea" by Nathaniel Philbrick and "The Wreck Of The Whaleship Essex" by Owen Chase - the latter of which inspired author Herman Melville's legendary work, "Moby Dick" - AHAB tells the tale of the Essex crew and the failed whale hunt which saw the ship end up at the bottom of the sea and doomed its crew to the horrors of cannibalism and an uncertain fate. Like the books, the songs on The Divinity Of Oceans capture the essence of a horrific turn of events while paying respect to the unwilling participants. Taking measure of the music, it's fair to say AHAB has done the work of Philbrick and Chase justice.
No question, AHAB offer up their own unique brand of doom metal. The typical BLACK SABBATH, CANDLEMASS and SOLITUDE AETURNUS comparisons used when describing the genre do not apply on The Divinity Of Oceans - nor have they ever where AHAB is concerned - as the album sets a brooding juggernaut pace that makes a much stronger impact than one might expect. Each song is an epic unto itself, the music is bombastic in spite of what being doom metal is supposedly all about, and Droste's vocals have taken the band in a direction no one would have expected upon diving into The Call Of The Wretched Sea. Calling doom metal "unpredictable" is a stretch at the best of times, but the term certainly applies on The Divinity Of Oceans.
Formed in 2004 by vocalist/guitarist Daniel Droste and guitarist Christian Hector, Ahab's line-up on The Divinity Of Oceans is rounded out by DEAD EYED SLEEPER members Cornelius Althammer (drums) and Stephan Wandernoth (bass), with Althammer pulling double duty as recording engineer and producer. In Hector's estimation it is "the best line-up we ever had in this band." Engineer Markus Stock (THE VISION BLEAK, EMPYRIUM), whom Droste and Hector worked with previously on MIDNATTSOL's 2008 album, Nordlys, was on board to mix and master the album at Klangschmiede Studio E, and the results are startling. Hector's initial descriptions of the songs for The Divinity Of Oceans as being akin to "CARCASS in slo-mo" and "MORBID ANGEL going beyond the slowness of 'Blessed Are The Sick'" are warranted, and his claims that the album might remind people of DEVIN TOWNSEND gone doom metal hold water by the bucketful. Indeed, on an atmospheric level - particularly where Droste's clean vocals are concerned - The Divinity Of Oceans may even be seen as the dark and doom-ridden bookend to Townsend's epic Terria album from 2001. High praise, perhaps, but well earned.
That said, the greatest strength of AHAB's new album is its ability to appeal to metal fans unaccustomed to or simply uninterested in doom metal. The ultimate achievement for any artist, and one that bodes well for the future no matter how dark it gets.
Welcome to The Divinity Of Oceans, the soundtrack for lost souls.
Esoteric (UK) - experimental/funeral doom metal
www.esotericuk.net
www.myspace.com/esotericuk
ESOTERIC formed in July 1992, after the gathering of five individuals, inspired to create dark, innovative music that was evocative to and expressive of the contents of their psyche. The lyrics and music are reflections and transpositions of their thoughts, philosophies, emotions and experiences. The music captures the essence of the word 'esoteric'
History
Slowly, slowly but steadily a sound rises from the deep. This sound starts up deceptively upon a lighter note, but rapidly turns into a swelling tide of massively droning guitars. Vocals are crushing in like a tidal wave, breaking with a voice as harsh and resonant as a maelstrom of grinding granite. Streams of sonic magma are constantly intertwining, twisting, melting together, then exploding into colours, forming patterns and dissolving into chaos again. Shapes, visions and scenes tumble into the mind, luring the soul out of the flesh only to take it firmly into an unrelenting musical grip and take the imagination down into a seething miasma of melancholy and pain.Thus begins an amazing journey beyond ordinary metal conventions into "The Maniacal Vale". ESOTERIC will grant you the sonic ride of your life – a daring exploration into the abyss, which lurks in the human mind. The English lords of psychedelic doom are tapping deep into the crimson bloodstream of subconsciousness. Their chosen path makes emotions, thoughts and personal experiences audible. "The Maniacal Vale" carries much more content than merely the significance of the sublime poetry of its lyrics. Some music still comes with a meaning and ESOTERIC present the perfect example for this seemingly old-fashioned concept. There are moments of tranquillity surrounded by pounding heaviness and each song takes its time to develop. Time is what "The Maniacal Vale" demands of its listeners as this album refuses to deliver a four-minute-festival-fix, which will make them to grab the next beer. Yet valuable time is also its reward, as new fascinating details will reveal themselves with each listening.ESOTERIC steadfastly resist the temptation of making their songs suitable to any easy listening or cutting them down to a radio-friendly scale. Their seven sinister psychodramas rather grow into epic dimensions and in fact, it takes two silver-discs to contain them. It is with obvious passion and patience that "The Maniacal Vale" was conceived. The simply stunning song writing on this album portrays all the experience and maturity of a band, which has been around since July 1992. Seasoned and honed to perfection by many a line-up change since then, continuity in ESOTERIC has always been kept safe by the core-members vocalist and guitarist Greg Chandler as well as guitarist Gordon Bicknell. Not everybody was able to participate in or contribute to the strong vision, which is driving the doom-lords, although other members than Gordon and Greg have always added to the song-writing. Yet finally, they have found a stable and dedicated line-up: Olivier Goyet on keyboards although being new to the recording process and widening the band's sound-range has been a regular sixth member for five years now. Mark Bodossian came with his bass in April 2003, while drummer Joe Fletcher and guitarist Kris Clayton both joined in 2007. Kris Clayton and Olivier Goyet left the band in the summer of 2009. Olivier left to return to his homeland, France and Kris left for personal reasons. In the meantime, Ilia Rodriguez (Pantheist, Indesinence) has been helping out on 3rd guitar duties for live performances and we are currently looking for a replacement for Olivier on keys/synths.If ESOTERIC had a motto, it would have to be: Think big! Already their first demo "Esoteric Emotions - The Death of Ignorance" injected 82 minutes of hateful - drug influenced tortured doom with a total of eight tracks. Their debut "Epistemological Despondency" (1994) was down to only six songs, but even longer and had to be released as a more than full-length double-CD. As the minute count was steadily rising, so were ESOTERIC's musical skills and mastery of their heavy genre gaining. "The Pernicious Enigma" (1996) brought another double-CD with nine tracks, now lasting a mind-debilitating 115 minutes.While the English maintained their essence, this second effort proved to be more complex, sinister, intense and dissonant. At this point, the line-up changes had grown quite numerous and a permanent drummer was missing, which might explain a reduction in productivity, but not quality as the band unleashed "Metamorphogenesis" (1999), which is often described as a Mini-CD although it has a total playing time of nearly 45 minutes. Having taken their sound to even more extremes, the remaining three members in the band recorded ""Subconscious Dissolution into the Continuum" (2004) as their first release on Season of Mist. Uncompromising as ever, the trio returned with a more refined yet terrifyingly bombastic production.Two successful European tours in 2004 and 2005 were made possible by the addition of three more musicians. ESOTERIC had meanwhile become darlings of the international press and now were conquering the hearts of the fans as well, while sharing stages with While Heaven Wept, Skepticism, Reverend Bizarre, Officium Triste, Mourning Beloveth and Pantheist to name but a few. With a stable line-up and the already critically acclaimed new album "The Maniacal Vale" about to be released onto an eagerly waiting world, anything can happen. ESOTERIC are ready, so be there, when the masters of dark doom are coming...
Ophis (DE) - doom/death metal
www.ophisdoom.de
www.myspace.com/ophisdoom
Death/doom from the bowels of rotting dinosaurs.
The Canyon Observer (SLO) - post/sludge/noise
thecanyonobserver.tumblr.com
A Slovenian quintet that crushes our assess with a combination of post-metal, sludge and atmospheric noise.
Tickets available at the organizator (evkaliptus666@gmail.com) or on www.on-parole.com
disintegration of optimism starts at 20.00