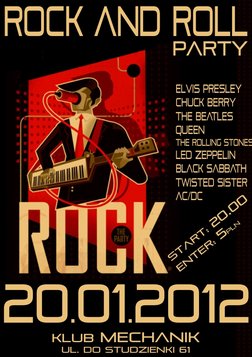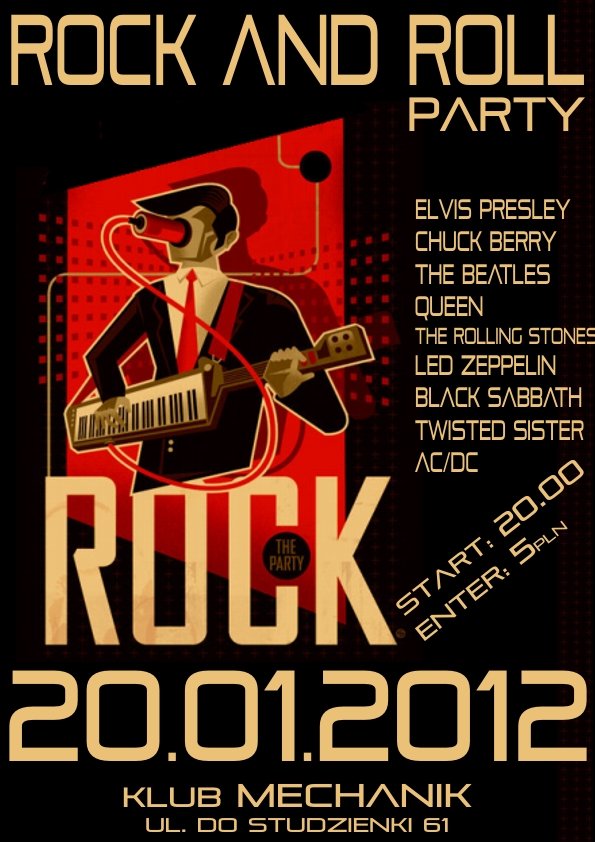 Date
Friday 20 January 2012 at 8:00pm
Description
Opis

ROCK AND ROLL party
Odpocznijmy od Skrillex'a, Modestep'a oraz wszędzie granej Gotye.
Czas na imprezę gdzie grany będzie prawdziwy rock. Przez całą noc będą nam towarzyszyć dźwięki gitar, a największe hity lat 50/60/70/80 nie pozwolą nam usiąść nawet na chwilę! Będą tańce i gwarantowane dobre pogo. A dla najlepiej bawiących się czekają nagrody, kupony rabatowe (nawet do -50%) na tatuaże do studia Bloody Art i Świost!
Kiedy? 20 stycznia 2012 (piątek)
Gdzie? Klub Mechanik
Cena? 5pln
Promocje? Piwo Lech, Żubr, Tyskie 3pln (do 21)
Organizator: Surprises Events Groups
Gra: Dj Surprise
Co usłyszymy? Elvis Presley, Chuck Berry, Johnny Cash, The Beatles, Queen, The Rolling Stones, Led Zeppelin, Black Sabbath, Twisted Sister, AC/DC i wiele wiele innych!
Masz muzyczne życzenia?
Napisz o nich pod wydarzeniem.
Najciekawsze propozycje nagrodzimy darmowym wejściem na imprezę!
Zapraszamy!