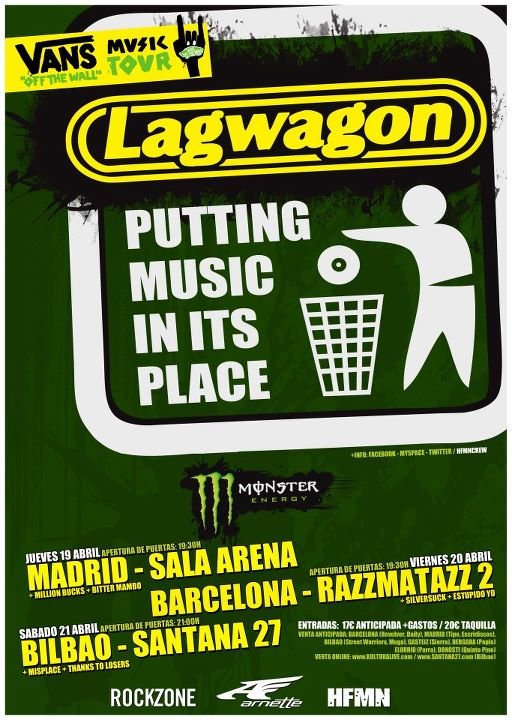 Date
Friday 20 April 2012 at 7:30pm
Description
Abril de 2012: VUELVE EL VANS TOUR!!
Presentado por MONSTER ENERGY y con la colaboración de ARNETTE, la edición 2012 del VANS TOUR contará con 12 grupos estatales e internacionales que en sus 5 fechas en Barcelona, Madrid y Bilbao prometen caña de la buena!
LAGWAGON
- Jueves 19 de Abril - MADRID - Sala Arena
+ Million Bucks + Bitter Mambo
Apertura de puertas: 19:30H
Last.FM: http://www.lastfm.es/event/3149160
- Viernes 20 de Abril - BARCELONA - Sala Razzmatazz 2
+ Silversuck + Estúpido Yo
Apertura de puertas: 19:30H
Last.FM: http://www.lastfm.es/event/3159286
- Sábado 21 de Abril - BILBAO – Sala Santana 27
+ Misplace + Thanks to Losers
Apertura de puertas: 21:00H
Last.FM: http://www.lastfm.es/event/3178044
Info en Facebook: http://www.facebook.com/events/178512998917595/
Tras demostrar este verano en festivales de medio mundo que están en plena forma, los californianos LAGWAGON vuelven a hacer gira de salas (¡casi 10 años llevamos esperándola!). Presentarán la re-edición de sus primeros 5 álbums, una ocasión única para recordar todos los hits que les llevaron a ser la banda de hardcore melódico más popular de los 90.
Todos adoramos las canciones de LAGWAGON, pero ¿qué decir de su directo? Estos tios ya tienen los huevos pelaos de dar infinidad de conciertos por todo el mundo a lo largo de sus 24 años de carrera musical. Estos veteranos demuestran sobre el escenario por qué siguen siendo uno de los mejores grupos de punk rock californiano y por qué Fat Mike no dudó en ficharles como primer grupo de su sello discográfico, Fat Wreck. "Alien 8", "Island of Shame", "Making Friends", "After You My Friend", "Razor Burn", "Beer Goggles", "Mr. Coffee" o "May 16th". La lista puede extenderse varias páginas, pero es que este los hits de este grupo no tienen fin.
Su última gira en el 2003 colgó el cartel de SOLD OUT en varias salas de la península y estamos seguros que esta gira no será para menos!!
Entrada anticipada 17€ / Entrada taquilla 20€
Entradas a la venta en Tipo (Madrid), Daily Records (Barcelona), Revolver Records (Barcelona), Street Warriors, Muga (Bilbao), Sierra (Gasteiz), Popis (Bergara), Parra (Elorrio), Quintopino (Donosti)
Venta online en www.kulturalive.com y www.santana27.com (Bilbao)
Más info sobre el grupo en:
www.lagwagon.com
www.myspace.com/lagwagon
www.fatwreck.com/band/index/1
Más info de esta y muchas otras giras en:
www.facebook.com/hfmncrew
www.myspace.com/hfmncrew
www.twitter.com/hfmncrew