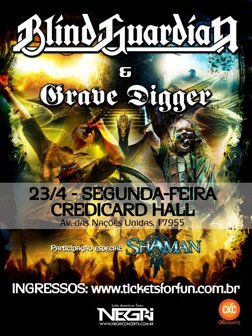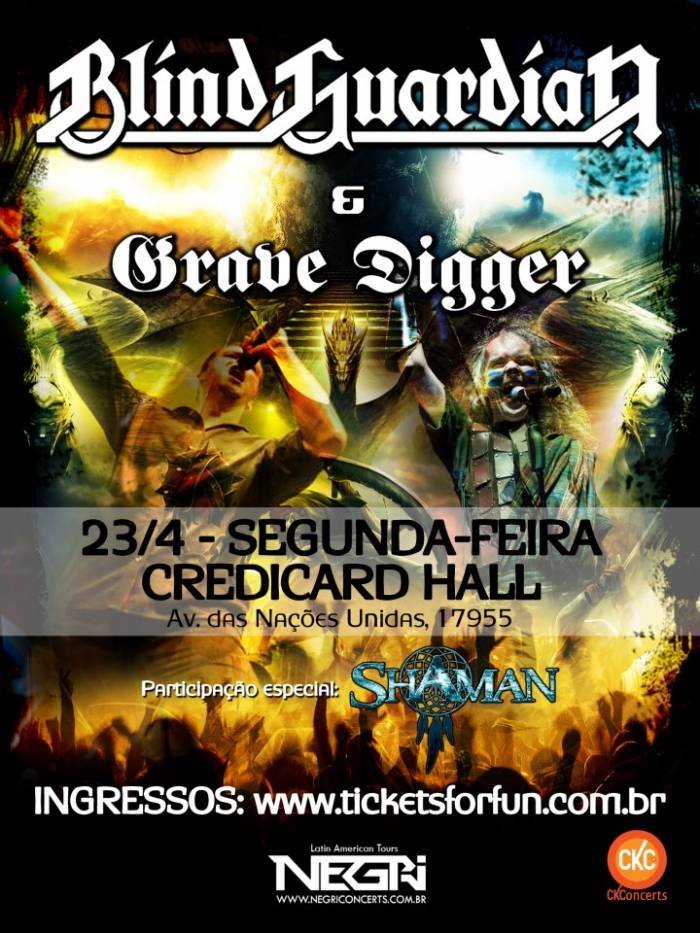 Date
Monday 23 April 2012 at 9:00pm
Description
A Negri Concerts anuncia uma grande noite para os fãs do mais puro heavy metal alemão: dois dos maiores expoentes do estilo tocam pela primeira vez juntos, em única apresentação em São Paulo. Trata-se do combo Blind Guardian e Grave Digger, que trouxe à tona o apelido THE BARD'S NIGHT para este evento tão especial.
Preços:
Camarote 1 - R$ 300,00
Camarote 2 - R$ 250,00
Pista Premium - R$ 250,00
Pista - R$ 150,00
http://premier.ticketsforfun.com.br/shows/show.aspx?sh=BLINDGUA12
The Bard's Night Festival, que tem em seu cast as bandas Blind Guardian & Grave Digger, acaba de ganhar mais uma atração de peso.
A banda paulistana SHAMAN, composta por Thiago Bianchi (V), Leo Mancini (G), Fernando Quesada (B) e Ricardo Confessori (D) também fará parte do festival.
http://whiplash.net/materias/news_842/148733-shaman.html