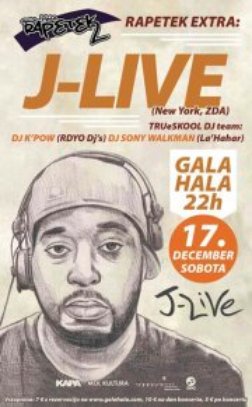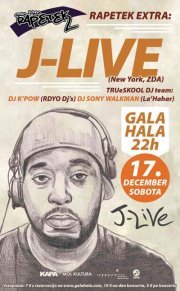 Date
Saturday 17 December 2011 at 10:00pm
Location
Gala Hala
Metelkova 4 (AKC Metelkova), Ljubljana, 1000, Slovenia
Tel: +386-(0)1-4317063
Description
Rapetek extra:
J-LIVE (New York, ZDA)
TRUeSKOOL DJ team:
DJ K'POW (RDYO Dj's)
DJ SONY WALKMAN (La'Hahar)
V Ljubljano prihaja njujorški MC, DJ in producent J-Live, eden najvidnejših kreativnih sil jazzy hiphop podtalja z začetka tega stoletja. J-Live je unikum newyorškega hiphopa, saj je eden prvih, ki je na istem koncertu združil estetiko DJ-a in MC-ja v eno. Kot "unsigned hype" revije The Source v času, ko je ta še kaj pomenila, se je njegov pohod na rapersko sceno začel leta 1995. V prvih letih je na podlage prekaljenih mačkov, DJ Premierja, Peta Rocka in Princa Paula opozoril nase, a je zaradi čudnih okoliščin njegov prvenec "The Best Part", posnet med leti 95 in 99, izšel pri njegovi založbi Tripe Threat šele leta 2001. Drugi album "All of the Above", na krilih producenta Dja Spinne in J-Liva samega, je doživel velik uspeh med rapersko publiko zlate dobe, sodelovanje z Dj Spinno pa ga je pripeljalo na eminentno beatmakersko založbo BBE.
Leta 2005 je izdal album "The Hear After" za Penalty, tri leta pozneje pa še "Then What Happened?" za BBE. Vrsta sodelovanj z Dj Jazzy Jeffom, Vakillom, El da Sensaiom, Beatminerzi, R.A. The Rugged Manom in drugim, je J-Liva prepričala, da zapusti svoje delovno mesto učitelja angleščine v Brooklynu in se posveti raperski karieri. Rezultat te odločitve je tudi letošnji zavedni in zabavni album "S.P.T.A. (Said Person of That Ability), na katerem sodeluje z Diamond D-jem, RJD2-jem, Marcom Polom, Nicolayem in drugimi. J-Live slovi potem, da se mnogokrat pred, med in po svojem nastopu prelevi v DJ-a, kar se bo zgodilo tudi tokrat.
Za uvod in zaključek večera bosta poskrbela fanta iz ekipe TRUeSkool. Dj K'Pow in Dj Sony Walkman bosta tako v svoj set prinesla elemente druženja, zabave, DJ-skih spretnosti in dokazala, da se hiphop ne dogaja za domači računalniki, temveč v klubih in na ulici. V ritmu hiphop klasik, pomešanih z originalnimi breaki, katerih sampli so bili kasneje uporabljeni na hiphoperskih klasikah, bosta zvesto sledila pravovernim zvokom hiphopa.
Vstopnina: 7 € z rezervacijo na www.galahala.com, 10 € na dan koncerta, 5 € po koncertu