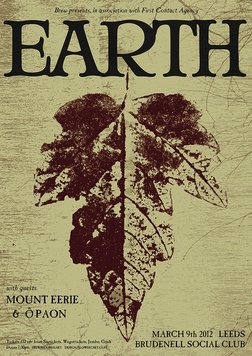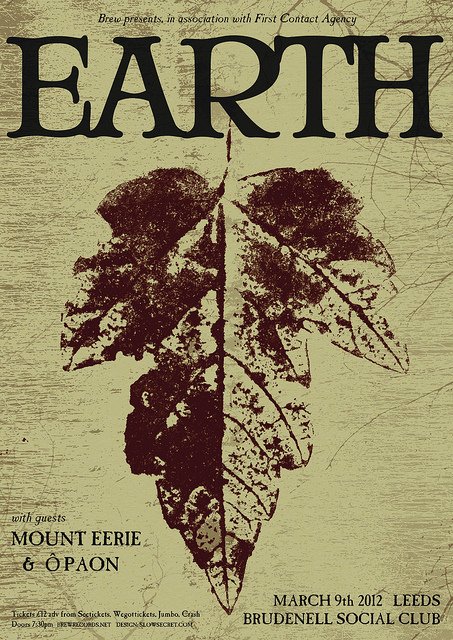 Date
Friday 9 March 2012 at 7:30pm
Description
Brew presents:
9th March 2012 - Brudenell Social Club, Leeds
EARTH (Southern Lord)
Dylan Carlson founded the band in 1989 along with Slim Moon and Greg Babior, taking the title "Earth" from Black Sabbath's original name. Carlson has remained the core of the band's line-up throughout its changes. Outside of the underground music world, Carlson is perhaps best known for having been a close friend of grunge icon Kurt Cobain, as well as the person who purchased the gun that Cobain later used to commit suicide. After Earth had moved to Seattle, Cobain sang lead vocals in the song "Divine and Bright", from a demo included on the re-release of the live album Sunn Amps and Smashed Guitars.
The drone doom band Sunn O))), who formed as a tribute to Earth, were named after their collective amplifiers of choice, Sunn. Sunn O))) also has a song entitled "Dylan Carlson" on its demo. The drone doom supergroup Teeth of Lions Rule the Divine are named after the second song from Earth's first full-length album, Earth 2: Special Low-Frequency Version.
The album Angels of Darkness, Demons of Light II is scheduled to be released in early 2012.
http://www.thronesanddominions.com/
Plus support from:
MOUNT EERIE
Mount Eerie is an Anacortes, Washington-based band fronted by Phil Elverum. Elverum is the principal member of the band, but he has collaborated with many other musicians on his records.
Following the release of The Microphones' Mount Eerie album, Phil Elverum announced that he would no longer use the Microphones moniker, opting instead to record under the name Mount Eerie, after the area in Anacortes,
http://www.pwelverumandsun.com/
Ô PAON
'Ô Paon' is Geneviève Castrée, a French-Canadian living in the United States. She was born in Québec City, grew up in Montréal and now she lives in Anacortes in Washington State.
Geneviève Castrée was once known for her other project called Woelv. She has made a collaborative record with "The Watery Graves of Portland".
'Ô Paon' has a self-released seven inch and she has just completed her first full-lenght 'Courses'.
Her latest project is called 'Urine', which can be found on her homepage.
http://www.opaon.ca/
Doors: 7.30pm
£12 adv
Tickets available from:
Jumbo Records, Crash Records
www.brewrecords.bigcartel.com
Seetickets - http://www.seetickets.com/Event/EARTH/Brudenell-Social-Club/606166
Wegottickets - http://www.wegottickets.com/event/146144
Facebook event: http://www.facebook.com/events/227168904023597/
Upcoming Brew gigs:
16th December: Holy State, That Fu*king Tank, Hookworms, Double Muscle: Brudenell Social, Leeds
9th April: Pelican + special guests: Brudenell Social, Leeds
www.brewrecords.net