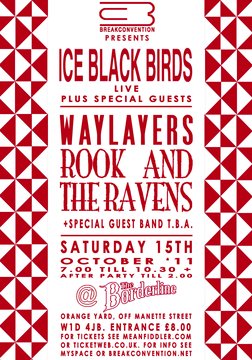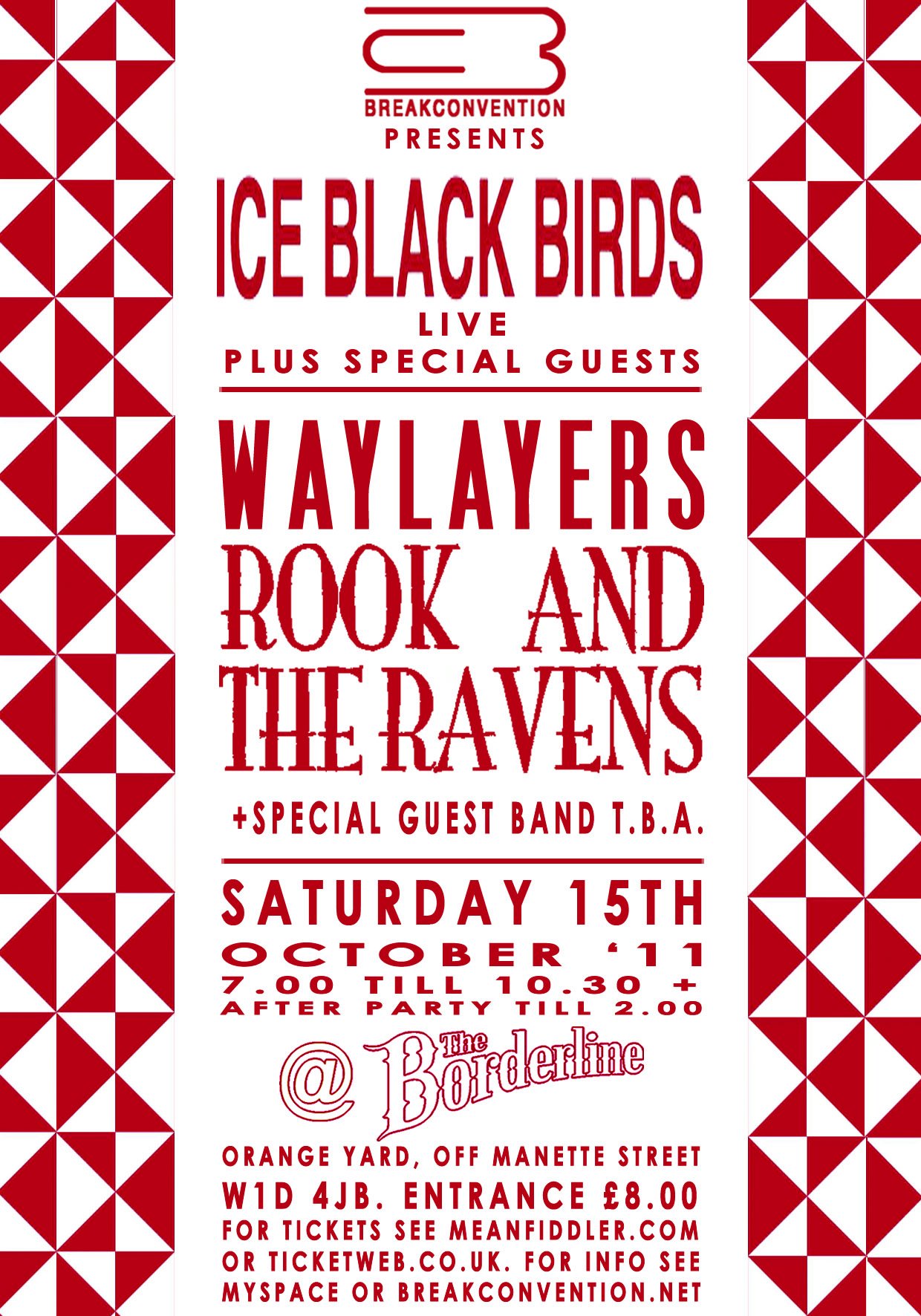 Date
Saturday 15 October 2011 at 7:00pm
Description
Join Breakconvention Live for a special showcase event @ London's, premiere live music venue, The Borderline! Featuring live performances from ICE BLACK BIRDS, WAYLAYERS & Manchester's finest ROOK AND THE RAVENS! - With special guest DJ's to follow, this is a must see event for any indie/pop music lovers diary. Tickets are on-sale now via Ticketweb.co.uk and HMV.com. Doors open 7.00pm, First band on-stage 7.30pm.
Headliner's, 'ICE BLACK BIRDS' are an edgy, blues-influenced, four piece from Brighton via London. The band draw influence from 60s and 70s rock 'n' roll but seem set to bring forth a unique and fresh burst of modern indie blues back into the industry, not unlike acts White Denim, The Black Keys, Royal Bangs and early Kings of Leon…but different.
'ICE BLACK BIRDS' were hand picked to feature at SXSW 2011 in Austin Texas, simultaneously reporting for Tom Robinson of BBC 6 Music. See recent Press below
"Like 'The Doors', if they'd swapped taking acid in the desert for writing coherent rock songs. From Brighton, this band has the anthemic chops to be serious contenders" – NME
"One of the best live acts to cross our boards" - Club NME
"Their sound is startling and very different. I predict big things for them" Huw Stephens (BBC Radio 1)
"22.22" is one of those increasingly rare, timeless rock songs that could be slipped in on the radio alongside The Yardbirds, The Stones or The Doors just as easily as Jet, Kings of Leon or The Black Keys. Granted, short, fast and angry isn't the recipe for success in many of life's scenarios, but music is the notable exception." -My Old Kentucky Blog
Main support comes from 'WAYLAYERS' who formed in 2010 and have already racked up a Kitsuné Maison 10 appearance under their belt.'WAYLAYERS' make atmospheric synth infused pop music. Inspired by reverb and with a love for soaring heartfelt melody and big sound scapes, Recently described by Artrocker as "Two Door Cinema Club gone all neon blue and Blade Runner, with a dash of Coldplay-style widescreenism". 'WAYLAYERS' have recently released their single 'Hear No Lies'. Remixes are now available by Little Loud, Keither and Superbeatz, and a track produced by the wonderful Ewan Pearson (Delphic).
Second Support comes from 'ROOK & THE RAVENS' an alternative rock quintet from the Dark Peak. Rook's, have supported the likes of 'Karima Francis' & 'The Travelling Band' and are currently working with esteemed record producer Andy Macpherson (The Who, Doves, Teenage Fanclub), the band are gaining an international reputation for blistering live shows and epic songwriting.
See recent press below:
"Rook and The Ravens impress with the versatility of The Byrds and Traffic" - The Independent
"Articulate, edgy, blistering and self-assured" - BBC