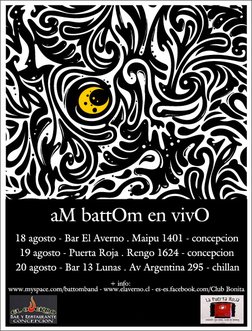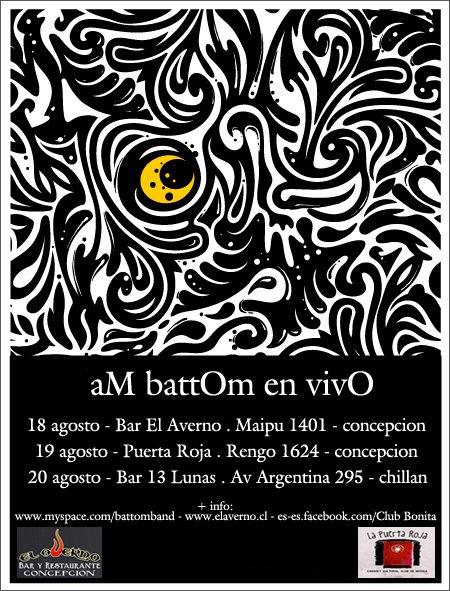 Date
Thursday 18 August 2011 at 8:30pm
Location
Bar El Averno - Puerta Roja - Bar 13 Lunas
Concepción - Chillán, Chile
Description
aM battOm, caminando "Entre Los Espacios", comienza nueva Gira al sur. Parten con sus guitarras, instrumentos, sonidos etéreos y capas sónicas para iniciar viaje musical en su natal Concepción y continuarlo en tierras chillanejas.
Un viaje de sensaciones, emociones y música.
Jueves 18 de Agosto / 20:00 hrs
Bar El Averno (Maipú 1401 esq. Janequeo - Concepción) Entrada Liberada
Viernes 19 de Agosto/ 22:00hrs
Puerta Roja (Rengo 1624 esq. Argentina -Primer piso Bonita Indi -entrada Rengo- Concepción)
banda invitada: cassette
Sábado 20 de Agosto / 21:00 hrs
Bar 13 Lunas (Av. Argentina 295 - Chillán) Entrada Liberada
banda invitada: oso de hielo -www.myspace.com/osodehielo
+info:
www.myspace.com/battomband
http://es-es.facebook.com/​ClubBonita
www.elaverno.cl
http://www.facebook.com/event.php?eid=158425707565531
Coming soon - reply to and upvote shouts! Subscribe now for early access or find out more.
Log in to Last.fm or sign up to leave a shout.
aM battOm, caminando "Entre Los Espacios", comienza nueva Gira al sur. Parten con sus guitarras, instrumentos, sonidos etéreos y capas sónicas para iniciar viaje musical en su natal Concepción y continuarlo en tierras chillanejas. Un viaje de sensaciones, emociones y música. Jueves 18 de Agosto / 20:00 hrs Bar El Averno (Maipú 1401 esq. Janequeo - Concepción) Entrada Liberada Viernes 19 de Agosto/ 22:00hrs Puerta Roja (Rengo 1624 esq. Argentina -Primer piso Bonita Indi -entrada Rengo- Concepción) banda invitada: cassette Sábado 20 de Agosto / 21:00 hrs Bar 13 Lunas (Av. Argentina 295 - Chillán) Entrada Liberada banda invitada: oso de hielo -www.myspace.com/osodehielo +info: www.myspace.com/battomband http://es-es.facebook.com/​ClubBonita www.elaverno.cl

Actions