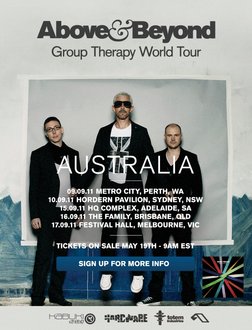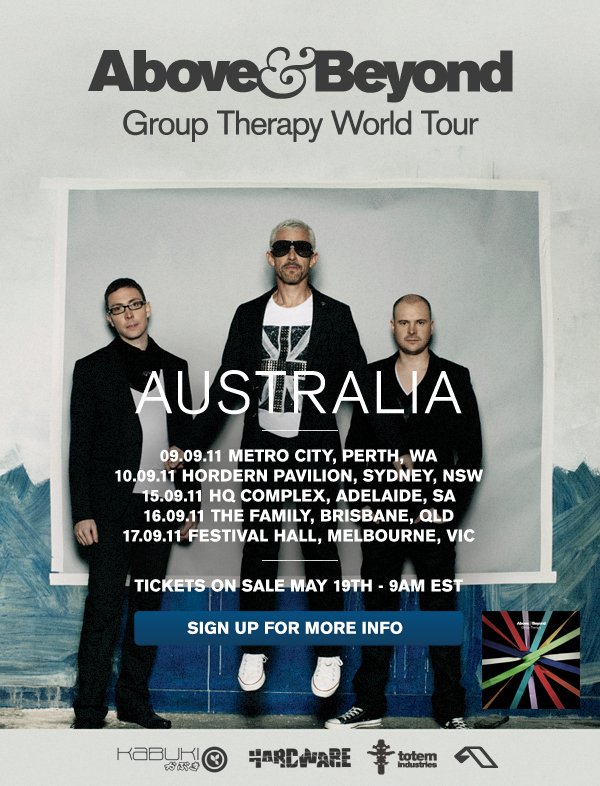 Date
Thursday 15 September 2011 at 8:00pm
Description
Hardware, Kabuki and Totem present:
Above & Beyond – Group Therapy World Tour & CD
FIRST SOLO TOUR TO AUSTRALIA – TOUR DATES:
Friday 9th September - Metro City, Perth
Doors open: 9pm – 4am
Tickets: http://Moshtix.com.au
$63.95 (including bf)
Saturday 10 Sep - Hordern Pavilion, Sydney
Doors open: 8pm – 3am
Tickets: http://Ticketek.com.au
$83.95 (including bf)
Thu 15 Sep – HQ Complex, Adelaide
Doors open: 8pm – 3am
Tickets: http://Venuetix.com.au and http://Moshtix.com.au
$49.00 (including bf) - moshtix
Fri 16 Sep – The Family, Brisbane
Doors open: 10pm – 5am
Tickets: http://Moshtix.com.au
$34.10 (including bf)
Sat 17 Sep – Festival Hall, Melbourne
Doors open: 8pm – 2am
Tickets: http://Ticketmaster.com.au
Tickets: $83.95 (including bf)
**TICKETS ON SALE NOW**
______________________________________________________
"Few trance artists have reached Above & Beyond's stature in terms of integrity and respect." IDJ
"A cut above." – Mixmag
"Above & Beyond's vault from innovative trance trio to globetrotting DJ superstars is now complete." DJ Magazine
"The UK's new dance superstars." Pete Tong, Radio 1
"A blend of sleek electronic rhythms, lush filmic textures and old-fashioned songwriting, 'Tri-State' is the fulfilment of any dance act's ultimate album aspiration: a padding-free, skilled, diverse long-player. In a word 'brilliant'. 5/5" DJ Magazine
__________________________________________________________________
Group Therapy – Above & Beyond (Album)
OUT NOW!
The first single release from the album, the synth-driven stadium dance of 'Sun & Moon' is hooking major props from dance music mogul Pete Tong and getting playlisted on BBC Radio 1 - topping both the iTunes Dance and Beatport Trance charts along the way. Bringing Above & Beyond's renowned blend of classic song-writing values and sleek electronic production into a contemporary context, their second album 'Group Therapy' will extend their appeal into the furthest reaches yet. Combining elements of trance 2.0, house, electronica and even modern classical, 'Group Therapy' is a complete listening experience that includes the bittersweet orchestral beauty of piano opener 'Filmic', the dark tale of edgy electronic-house anthem 'Black Room Boy' and the ambient electronica of 'Sun In Your Eyes' – a track which recalls ambient's early-90s glory days of Global Communication, Pete Namlook et al. With tales of loves lost, found and confused at 'Group Therapy's heart, highlights like 'Alchemy', 'You Got To Go' (both sung by former Faithless/Bent vocalist Zöe Johnston) and future single 'Thing Called Love' (feat. Richard Bedford) are the antithesis of throwaway club music – adding depth, meaning and classic songwriting values to an album destined to go down as one of electronic music's classic moments.
Track Listing:
01. Filmic
02. Alchemy feat. Zoë Johnston
03. Sun & Moon feat. Richard Bedford
04. You Got To Go feat. Zoë Johnston
05. Black Room Boy (vocals by Tony McGuinness and Richard Bedford)
06. Giving It Out feat. Zoë Johnston
07. On My Way To Heaven feat. Richard Bedford
08. Prelude
09. Sun In Your Eyes
10. Love Is Not Enough feat. Zoë Johnston
11. Every Little Beat feat. Richard Bedford
12. Sweetest Heart feat. Zoë Johnston
13. Thing Called Love feat. Richard Bedford
14. Only A Few Things feat. Zoë Johnston
15. Eternal
Pre-order via itunes: http://itunes.apple.com/au/preorder/group-therapy/id438739781