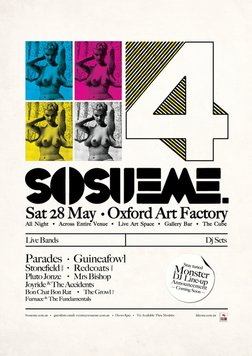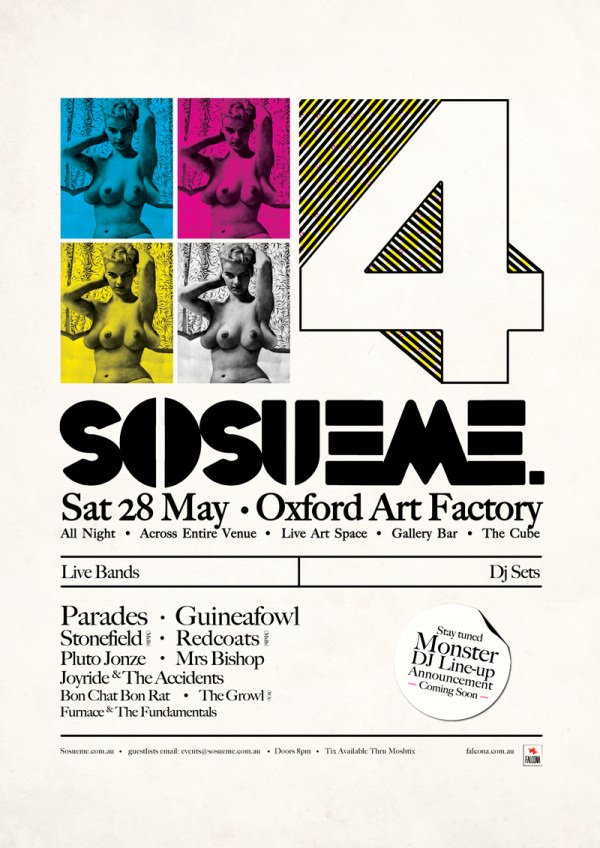 Date
Saturday 28 May 2011 at 8:00pm
Description
Here it is, the announcement you've all been waiting for: SOSUEMEs 4th Birthday Box Social! That's 23 in cat years, 30 in dog years and the 1200 generations of Mayfly years. We will be marking this coming-of-age moment with a seriously raucous celebration filled with all kinds of weird and wonderful bday specific surprises.
Consider for a moment all youve seen at SOSUEME over the last 4 years: from bands to babes; envelope pushing artworks to pioneering debut performances; DJ sets and afterparties from some of the worlds biggest bands, to that guy who swan dived off the roof and somehow lived - we've seen it all, done it all and shared it all (along with the hangovers).
Now its time for us to be giving back the only way we know how with an unconscionably excessive festival of hedonism; All of Oxford Art Factory, All night , Saturday 28 May! For us a birthday isn't just 10 of the best bands around and a slew of top international and local DJs. No for us its about every single person who comes getting a hug and a party hat on entry, its about acrobats in zentai suits, evil taro readers, lolly bags, buckets of questionable rocket fuel, free popcorn, piatas, obnoxious clowns on acid, kissing booths, Nintendo competitions and birthday cake made with hash butter! Throw all these ingredients into the mixing pot of awesome that is a SOSUEME Birthday and its no surprise we maintain a 50% pregnancy rate.
For your pleasure, we officially present to you the wonderfully talented bands who'll be serenading us with live birthday frivolity:
Parades
Guineafowl
Stonefield (Melb)
Redcoats (Melb)
Pluto Jonze
Joyride & the Accidents
Mrs Bishop
Bon Chat Bon Rat
The Growl (WA)
Furnace & the Fundamentals
Stay tuned for the ridiculous DJ lineup announcement soon!
Tickets are on sale MIDDAY on Monday 11 April from moshtix. Don't dilly dally, the last two OAF SOSUEMEs sold out and they didn't even have lolly bags!
You may not remember when you turned four but you'll sure as hell remember when SOSUEME did!