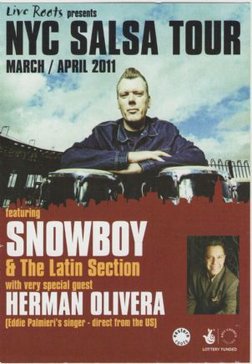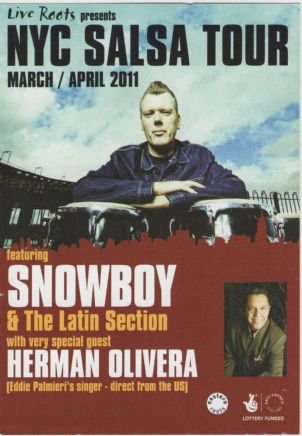 Date
Friday 1 April 2011 at 9:30pm
Description
This April, DJ Lubi and Live Roots Tours bring the salsa sounds of New York City to Leeds, as The Wardrobe presents the NYC Salsa Tour!
This firing collaboration unites Europe's finest mambo and latin jazz group Snowboy & The Latin Section, with Puerto Rican singer and true salsa legend Herman Olivera! This is a transatlantic alliance that demonstrates just how real salsa should be played – with power, vigour, gusto and swing!
Snowboy is arguably the UK's best known conga player and percussionist. Famous not only for his own productions and his session work with artists like Lisa Stansfield, James Taylor Quartet and Incognito, he is perhaps best known for his work with band The Latin Section, with whom he sold tens of thousands of units for Acid Jazz Records throughout the nineties. The band have since enjoyed numerous international live appearances, playing their trademark hardcore Afro-Cuban jazz, and they've gone on to record for labels Ubiquity/Cubop, Chilli Funk and most recently the super cool Freestyle Records. This show is the first Leeds appearance for Snowboy and The Latin Section since 2004.
Herman Olivera is considered to be one of the finest salsa singers, or "soneros", in the world today. Born to Puerto Rican parents in 1959, by his early twenties he was singing for top New York salsa band Conjunto Libre, and he quickly went on to record and gig with pioneers like Eddie Palmieri and Johnny Pacheco. He's featured as lead vocalist on over forty recordings, including Spanish Harlem Orchestra's Grammy award-winning 2002 debut 'Un Gran Dia En El Barrio'. He has also recorded alongside Jimmy Bosch, Johnny Polanco, Andy Montanez and Descarga Boricua. Olivera has been lead singer for the Eddie Palmieri Orchestra since 1998, and is one of the legendary pianist's longest serving vocalists. When you see him live, you witness the real art of a "sonero", where improvisation is as important as the song! This is Herman Olivera's first Leeds appearance since the Eddie Palmieri Orchestra's 1999 concert at Casa Latina.
Veteran Leeds salsa DJs Lubi Jovanovic and Fabio Bahia will be warming up the dancefloor for the band, playing the finest salsa, old and new, alongside some kicking mambo and latin jazz!
Advance tickets just £10 from:
The Wardrobe (over the bar only)
Jumbo Records (www.jumborecords.co.uk, 0113 245 5570)
Crash Records (www.crashrecords.co.uk, 0113 243 6743)
9:30pm-2:00am