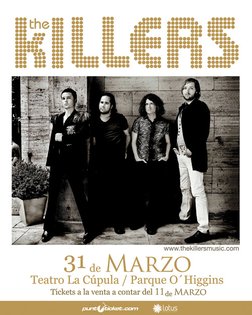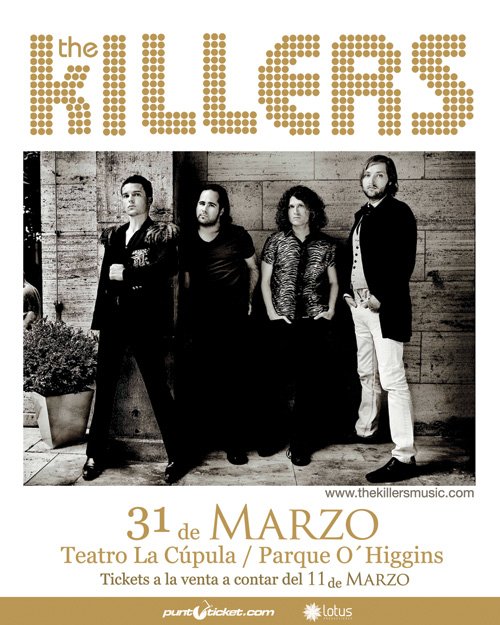 Date
Thursday 31 March 2011 at 9:00pm
Description
The Killers anuncia show íntimo previo a Lollapalooza
---ENTRADAS AGOTADAS---
(Quiere decir ----> ÍNTIMO!!! que sera un espectaculo de pocas personas, mas cercano!!! Y en un lugar mas pequeño como el Teatro La Cúpula . no como en el Festival Lollapalooza. )
Agendado el Jueves 31 de marzo – Teatro La Cúpula – 21 horas
¿
¿MAS RAZONES???
El grupo da la partida a las actividades del Festival Lollapalooza con un concierto propio en el recinto del Parque O'Higgins. Las entradas estarán a la venta a partir del viernes 11 de marzo.
...
Un show propio, de carácter íntimo, en el que pueden sentirse a sus anchas en un espacio adaptado especialmente para ellos, es el que tendrá The Killers un día antes de su histórica participación en el Festival Lollapalooza Chile. El cuarteto de Las Vegas actuará el jueves 31 de marzo en el Teatro La Cúpula, dando la partida a las actividades que rodean al desembarco del famoso festival en nuestro país.
The Killers, considerada una de las bandas fundamentales del rock de la última década a nivel mundial, se ha reunido especialmente para esta visita de carácter único a nuestro país. Sus integrantes habían anunciado un receso para emprender desafíos en solitario, pero no se quisieron perder esta ocasión. Y es así como aseguraron su presencia en el primer día de Lollapalooza, el sábado 2 de abril, a las 21 horas, como uno de los platos fuertes de la jornada y de todo el festival. Ahora el incentivo es aún mayor, habiendo sumado esta segunda actuación el día previo, donde podrán darse cita con sus seguidores desde una perspectiva distinta.
La banda compuesta por Brandon Flowers (voz y teclado), «Dave» Keuning (guitarra), Mark Stoermer (bajo) y «Ronnie» Vannucci Jr. (batería), llega a nuestro país con su exitoso disco "Day & Age" como última carta de presentación, pero repasando además el resto de su material, que desde el primer minuto pegó fuerte en distintos puntos del planeta. Incluyendo Chile, que los ha recibido con gran éxito en ocasiones anteriores y ahora más que nunca espera por ver a los autores de hits como "Mr. Brightside", "Somebody told me", "Read my mind" y "Human", entre otros.
VENTA DE ENTRADAS
Los boletos para ver a The Killers en su show en La Cúpula estarán a la venta desde el viernes 11 de marzo por el sistema Puntoticket y en puntos de venta en Tiendas Ripley y Cinemark.
Entrada General: $33.000
PRE VENTA FANS CLUB
Además, para el Fans Club Oficial de The Killers en Chile se dispondrán 300 entradas a la venta, con un límite de 4 tickets por persona.
Entradas a la venta a partir del 11 de marzo
http://www.puntoticket.com/
http://www.puntoticket.com/
http://www.puntoticket.com/
info por : http://www.facebook.com/event.php?eid=208645015817580
POTQ.cl
NOS VEMOS!