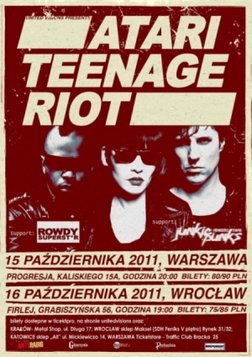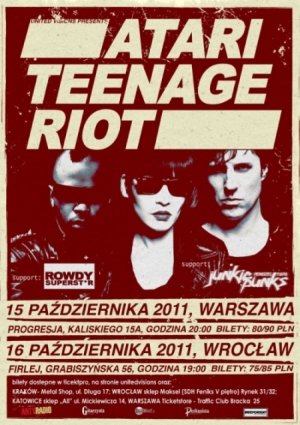 Date
Saturday 15 October 2011 at 8:00pm
Location
Progresja
ul. Sylwestra Kaliskiego 15a, Warszawa, 01-001, Poland
Tel: (+480) 22 683 75 42
Description
Kiedy: 15.10.2011
Miasto: Warszawa
Miejsce: Progresja, ul. Kaliskiego 15
Start: 20.00
Wjazd: 80/90 PLN
Zagrają:
ATARI TEENAGE RIOT
niemiecka legenda z nurtu digital hardcore - promujący nowy album, który ukaże się wiosną tego roku.
Zespół został założony w styczniu 1992. Od początku w jego skład wchodzili Alec Empire, Hanin Elias oraz Carl Crack. W tym samym roku ukazał się pierwszy singiel Hetzjagd auf Nazis. W 1993 Atari Teenage Riot podpisało kontrakt z wytwórnia Phonogram. W 1994 Alec Empire założył w Londynie własny label..., Digital Hardcore Recordings. Właśnie w DHR bedą się ukazywać produkcje Atari Teenage Riot, a nazwa wytwórni stanie się określeniem całego gatunku.
Debiutancki Delete Yourself! pojawił się na rynku w 1995. Druga studyjna plyta Atari to The Future Of War z 1997. W tym samym roku do zespołu dołączyła Nic Endo. Trzeci regularny krążek - 60 Second Wipeout - ukazał się w 1999.
Twórczość Atari Teenage Riot łączyła w sobie elementy muzyki gitarowej (punk, metal, rock) z szeroko pojętą elektroniką (hardcore techno, gabber, breakbeat, big beat, jungle) i hip hopem. Członkowie eksperymentowali także z muzyką noise, technikami cut and paste i cut-up przy użyciu samplerów. Całość była okraszona wściekłymi, często przesterowanymi wokalami.
Zespół nie ukrywał swych antynazistowskich, anarchistycznych przekonań politycznych. Grał wspólne koncerty m.in z Beck, Rage Against The Machine czy Nine Inch Nails.
ROWDY SUPERSTAR
Rowdy Superstar to psychodeliczny rapowy projekt z Londynu. Do swoich inspiracji zalicza m.in. Prince'a, Davida Bowie oraz M.I.A. Dzięki zręcznej mieszance dźwięków old-school'owego hip-hopu i popu z lat 90-tych powstaje coś naprawdę niesamowitego. Bardzo szybko został okrzykniety prawdziwym odkryciem i wielkim talentem. Bez wątpienia będzie to ciekawa rozgrzewka przed Atari Teenage Riot!
JUNKIE PUNKS
Czyli Sex Pistols za deckami.
Kolektyw, który w przeciągu niespełna 10 miesięcy zagrał z/zorganizował: Cyberpunkers (IT), A1 Bassline (UK), Blatta & Inesha (IT), Belzebass (IT), The Blisters Boyz (FR), Dimitry (CZ), PnP (GR), Supra1, Dick4Dick, Gypsy Pill, Novika, Yummy Cake, AXMusique, Gooral, Kwazar, Pink Bazooka, Vein Cat, Kuba Wandachowicz (CKOD), Gangsteppaz, Slutocasters, Hungry Hungry Models, Slam Dunk,DJ Spox, Dezet, Organauts, Electrocandy DJ's, PZG, Squal, Harbour Horse, Jakub Dymek, Dizzie Trouble, Nikola Waters, Herodsky, Fat Cut, Gretzky, The Phantom, Jick Magger, Elektrische TV, Holly Kitty, Rude Boys, Sick Physical, Alcowhore, Twin Prix, Mr. Poppins, Coffe, None… i wielu wielu innych.
Odpowiedzialni/współodpowiedzialni za: WooW Party, DJLand, Hype Party, Ła-Ła-Łi-Ła, Beat Goes Boom, Revolta, Prodigy Night, Electroclash Night . . .