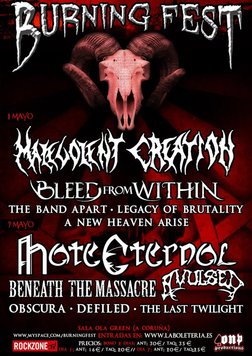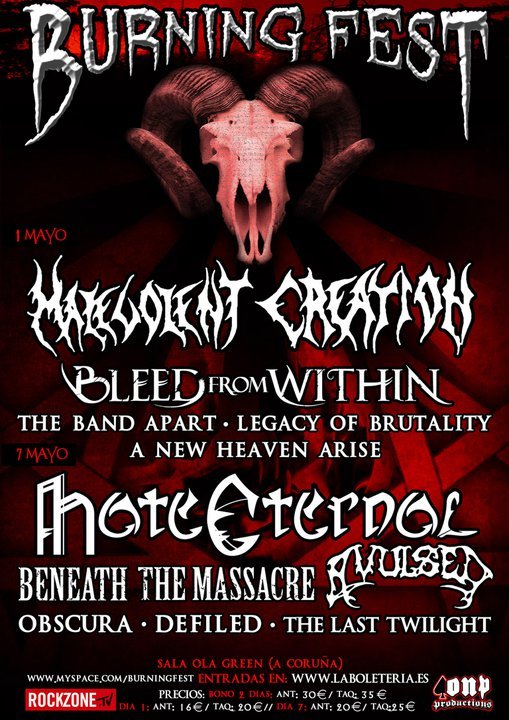 Location
Discoteca Ola Green
Paseo de Ronda, 57, A Coruña, 15011, Spain
Description
Día 1: http://www.last.fm/event/1817451
Día 2: http://www.last.fm/event/1836799
O.N.P. Productions tiene el placer de presentar la primera edición del BURNING FEST, un festival para aquellos seguidores del metal más extremo. Los artistas confirmados hasta el momento son:
MALEVOLENT CREATION banda de death metal creada en 1987 en Buffalo, Nueva York Con su primera grabación, The Ten Commandments, se establecieron como una de las bandas líderes dentro de la escena deth metal. Durante 20 años su poderosa música ni sus titánicos riffs nos han dejado indiferentes. La banda ha sufrido numerosos cambios durante estos años, pero vendrá al Burning Fest con 3 de sus miembros fundadores. Una ocasión única para ver una de las grandes bandas del death metal!!
HATE ETERNAL banda de death metal, creada en 1997 y liderada por el conocido guitarrista Erik Rutan (ex Morbid Angel). Este proyecto nace de la necesidad de Rutan de implementar sus propias ideas en una banda extremadamente devastante. Hasta la fecha, Hate Eternal ha realizado 4 álbumes: Conquering the Throne (1999), King of All Kings (2002), I, Monarch (2005) y Fury & Flames (2008).
BENEATH THE MASSACRE es una banda de brutal death metal/technical death metal originaria de Montreal, Canadá. Publicó su álbum debut, Evidence of Inequity en 2004. Han tocado y compartido escenario con bandas como Behemoth, As Blood Runs Black, Necrophagist, Job for a Cowboy, Ion Dissonance y muchas más....su demoledor directo demostrará a los asistentes del Burning Fest de lo que son capaces!
BLEED FROM WITHIN banda de deathcore formada en el año 2004 y que rápidamente se hizo un nombre por sí misma, compartiendo escenario con bandas como Job for a Cowboy, The Black Dahlia Murder.... y participando en grandes festivales como el Dowload Festival o el HammerFest.
OBSCURA banda alemana de death metal. Tras firmar con Relapse Records en 2008, la banda hace su primera gira estadounidense con Cannibal Corpse. El 2010 ha sido un año muy activo para la banda haciendo una gira mundial con más de 160 conciertos en tan sólo un año. A principios de 2011 saldrá su último y esperado álbum "Omnivium"
DEFILED banda de death metal formada en japon en 1992,influencia principalmente por Morbid Angel, consiguiendo un sonido muy particular al mezclar el estilo de Florida con la cultura de Tokyo.La banda ha compartido escenario con bandas como Arch Enemy, Testament , Morbid Angel etc.Llegan presentando su último disco "In Crisis".