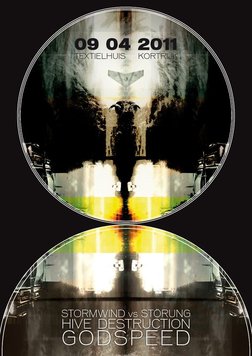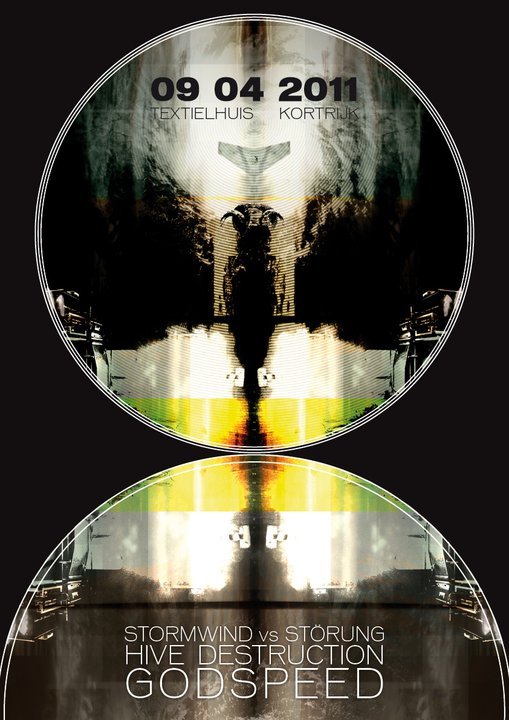 Date
Saturday 9 April 2011 at 7:30pm
Location
Textielhuis
Kortrijk, Belgium
Description
STÖRUNG vs. STORMWIND
_Members of Hive Destruction and Godspeed team up for a unique set.
Think noisy soundscapes versus layers of acoustic guitars.
This is the first STORMWIND live performance ever!!!
GODSPEED
_ex members of Black Haven-The Deal-Firestone__Heavy powerrock.
GODSPEED creates a massive rocking sound they call powerrock. Mixing loud guitars and rocking bass and drums with enough melody to keep it catchy they are influenced by classics like LED ZEPPELIN, BLACK SABBATH and modern acts such as QUEENS OF THE STONE AGE, KYUSS, BLACK REBEL MOTORCYCLE CLUB and FOO FIGHTERS.
HIVE DESTRUCTION
_ex members of Liar-Amen Ra-Black Haven-Your God Is Dead__Atmospheric and heavy sludge.
HIVE DESTRUCTION is set to batter upon your eardrums with superheavy CROWBAR, NEUROSIS, ISIS and OLD MANS GLOOM a-like riffing. Combined with atmospheric, acoustic and original hooks, deafening electronics and gloomy grooves, HIVE DESTRUCTION is not for the weak of heart.