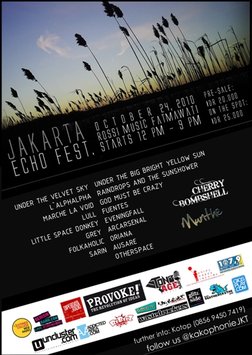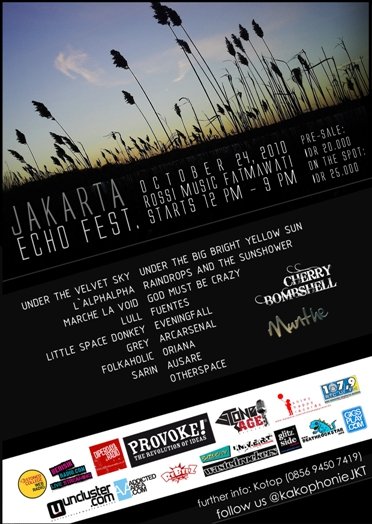 Date
Sunday 24 October 2010
Location
Rossi Musik
Jl. RS Fatmawati No. 30B Cipete Utara Kebayoran Baru Jakarta Selatan DKI, Jakarta, Indonesia
Tel: +62 21 7654527
Description
Jakarta Echo Fest merupakan sebuah event pengusung musik yang bertekstur, memiliki alur dari suara yang hening meluncur ke suara yang luar biasa bising. Acara ini didominasi band-band yang mengusung genre instrumental, eksperimental, post-rock, shoegaze, ambient dan sejenisnya.
MINGGU, 24 OKTOBER 2010 @ ROSSI MUSIC, FATMAWATI
start 12.00 - 24.00
Rossi Music, Fatmawati
Jalan RS Fatmawati 30, Cilandak
PRE-SALE IDR 20.000
ON THE SPOT IDR 25.000
*PRE-SALE SUDAH DIBUKA :
- Untuk Jakarta dan sekitarnya, ticket presale dapat di beli di NANONINE HOUSE TEBET. Please contact : 085694507419 (KOTOP)
- Untuk Tangerang dan sekitarnya, via mobile reservation. Please contact (call/sms) : 08567662922 (DIMMY)
BRING EXTRA CASH!
JAKARTA ECHO FEST AVAILABLE IN T-SHIRT AND STICKER!
NO DRINKS FROM OUTSIDES!
http://www.kaskus.us/showthread.php?p=282328317#post282328317
http://www.facebook.com/event.php?eid=130327717014988