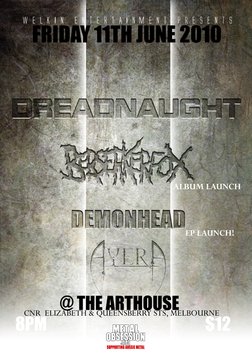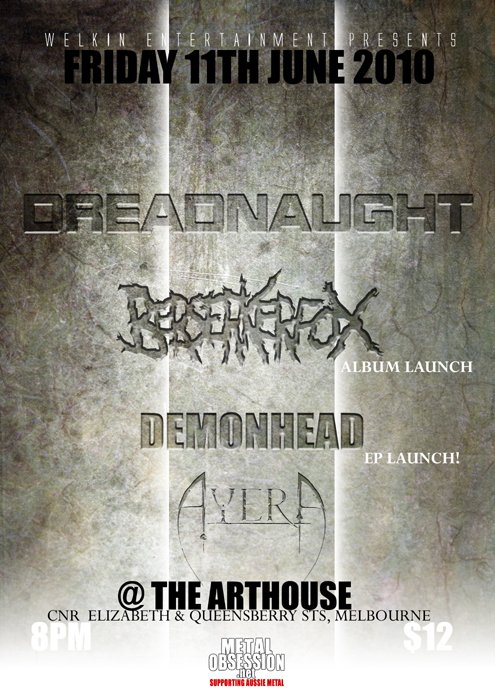 Date
Friday 11 June 2010 at 8:00pm
Description
WELKIN ENTERTAINMENT PRESENTS
DREADNAUGHT
BERSERKERFOX (ALBUM LAUNCH)
DEMONHEAD (EP LAUNCH)
AYERA
Friday, June 11 @The Arthouse
Doors 8pm Entry $12
Since their inception more than 17 years ago DREADNAUGHT have established themselves as a cornerstone for Australian heavy rock audiences. Never touted as the 'next big thing' or 'flavour of the month', but as sub-genres and bands come and go, Dreadnaught never fail to provide their loyal fans, both old and new, with diverse offerings that are rooted in the brand of Australian rock and metal that the band have become an historic part of. May 2009 saw the release of their self-titled LP CD and shows a transition from the more rock-orientated releases of previous years to a crossover thrash-metal style more representative of the bands early releases.
Locals BERSERKERFOX will be launching their debut album "History.Altar.Ashes" on the night. Recently unleashed to the world via Norwegian label 'Ovis Records', the band has received praise for the release with 666metal.com in the US calling their songs "A fiery masala of raucous and catchy melodic death metal licks." Leading Australian metal webzine Metal As Fuck.net spruiked them as "a future big name within the Australian metal scene" with fellow Aussies at the Metal Forge.com declaring their melodic prowess and thrashy power a "winning combination." Berserkerfox have an all-devouring approach to metal that features a pinch of the classic sound melded with the blunt-edge force of modern death and thrash metal.
Spawned from a mutual love of metal and hard & heavy rock, DEMONHEAD are ready to tear the roof off!! Widely known for their energetic, infectious and sometimes chaotic live shows, Demonhead will leave you with a grin on your face and a nasty hangover the next day. Launching their Debut E.P., "Demonology 101", on the night, they fuse pub rock with face melting solos and fist pumping metal anthems and are a band you definitely won't forget.
Opening on the night will be local thrash/melodic death metallers AYERA.
http://www.myspace.com/welkinentertainment
http://www.metalobsession.net/
http://www.myspace.com/dreadnaughtmusic
http://www.dreadnaught.com.au
http://www.myspace.com/berserkerfox
http://www.myspace.com/demonheadrocks
http://www.myspace.com/ayerametal
FACEBOOK EVENT PAGE:
http://www.facebook.com/event.php?eid=119715678051926