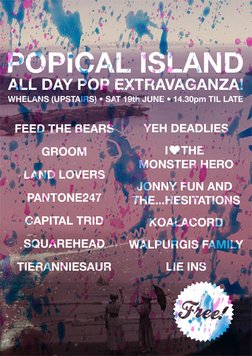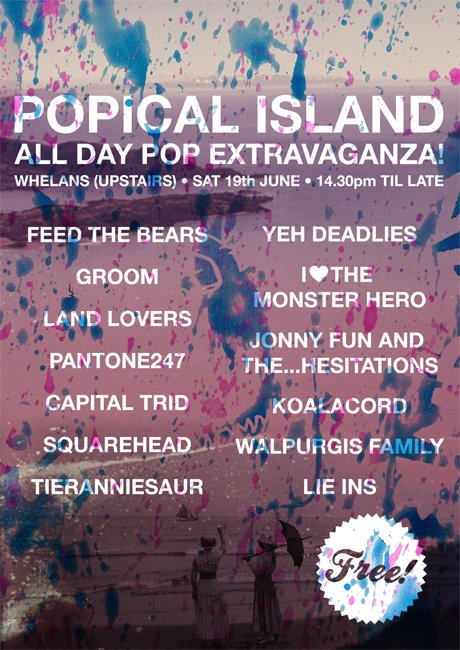 Date
Saturday 19 June 2010 at 3:00pm
Description
♥♥♥♥♥♥♥♥♥♥♥♥♥♥♥♥♥♥♥♥♥♥♥♥♥♥♥♥♥♥♥♥♥♥♥♥♥♥♥♥♥♥♥♥♥♥
POPICAL ISLAND PRESENTS
POPICAL ISLAND ALL-DAY POP EXTRAVAGANZA
featuring
Doors: 2:30
2:45 - 3:10: No Monster Club
3:25 - 3:45: Tieranniesaur
4:00 - 4:30: Lie-Ins
4:45 - 5:15: Walpurgis Family
5:30 - 6:00: Squarehead
6:00 - 6:45: Break
6:45 - 7:05: Capital Trid
7:15 - 7:45: Koalacord
8:00 - 8:30: Pantone247
8:45 - 9:15: Jonny Fun and The…Hesitations
9:30 - 10:00: Groom
10:15 - 10:45: I the Monster Hero
11:00 - 11:30: Land Lovers
11:45 - 12:15: Yeh Deadlies
12:30 - 1:00: Feed the Bears
Oh and - the Popical Island DJs, plus guests, till late.
This will be the launch party for Popical Island #1, a compilation featuring 15 pop bands.
Upstairs@Whelan's, 25 Wexford St, Dublin 2
Saturday, June 19th, 3:00 pm
Admission: FREE
♥♥♥♥♥♥♥♥♥♥♥♥♥♥♥♥♥♥♥♥♥♥♥♥♥♥♥♥♥♥♥♥♥♥♥♥♥♥♥♥♥♥♥♥♥♥
Popical Island collective are proud to present the much anticipated compilation album POPICAL ISLAND #1 on Saturday, June 19th, Upstairs@Whelan's. In fact, we're so proud, this launch gig will be FREE admission. And to maximize the pop-potential, we're putting on a FULL DAY of indie shenanigans, starting at 3.00 PM. CDs will be on sale for €10 each: this is a limited, hand-made release, so get there early and get your copy before they sell out. It's the perfect Summer record!
CAN'T WAIT FOR THE FUN TO BEGIN? CLICK HERE TO HEAR AN EXCLUSIVE TRACK FROM THE COMPILATION - http://bit.ly/ciCrNr
♥♥♥♥♥♥♥♥♥♥♥♥♥♥♥♥♥♥♥♥♥♥♥♥♥♥♥♥♥♥♥♥♥♥♥♥♥♥♥♥♥♥♥♥♥♥
http://soundcloud.com/popical_island/
http://twitter.com/Popical_Island
http://www.myspace.com/popicalisland
http://popicalisland.tumblr.com/