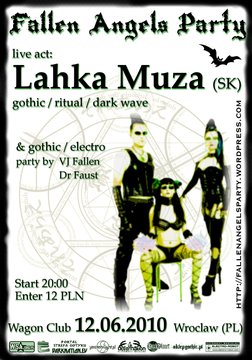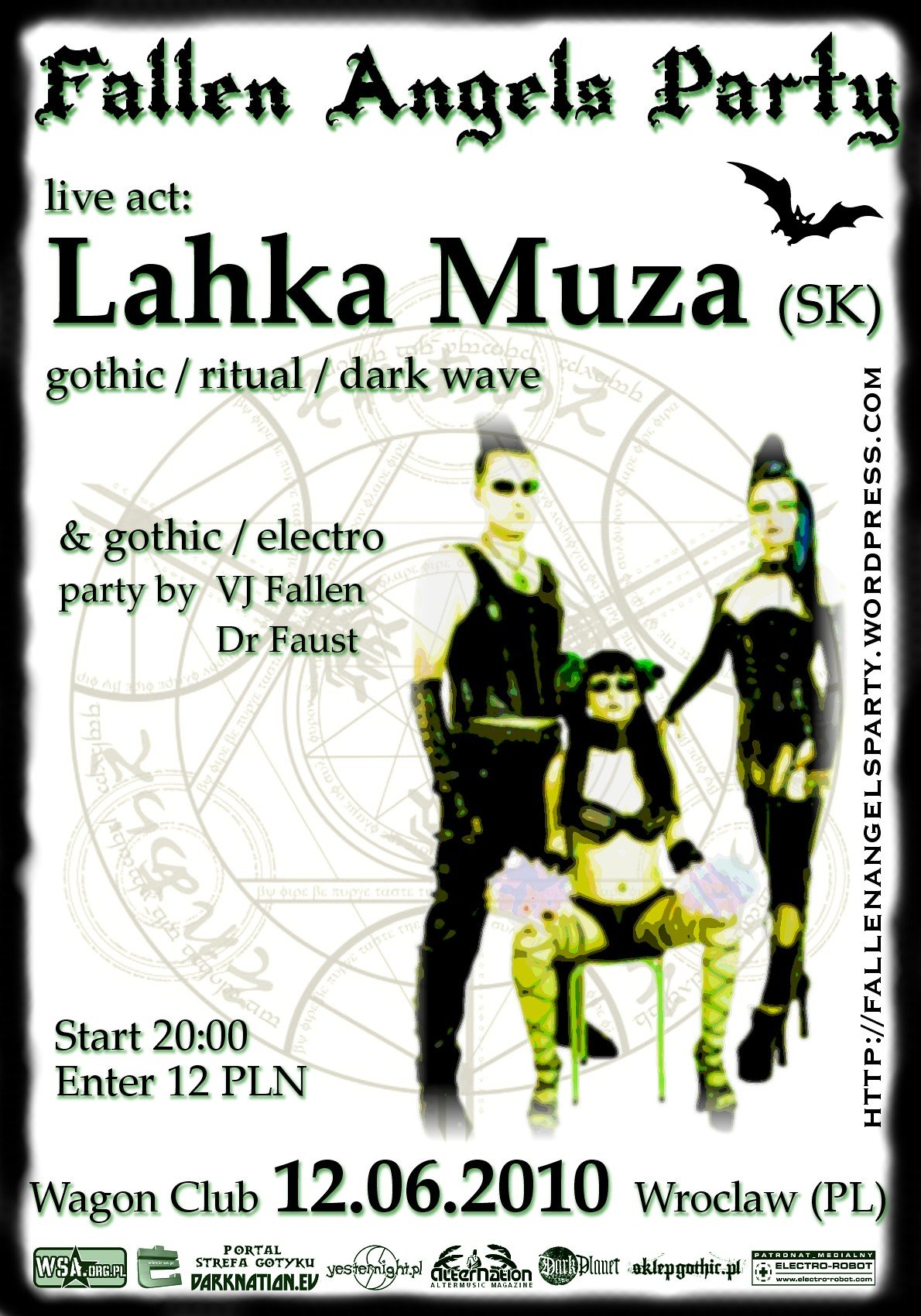 Date
Saturday 12 June 2010 at 8:00pm
Location
Wagon Club
Plac Orląt Lwowskich 20A, Wrocław, 53-605, Poland
Tel: 071 3412948
Description
Zapraszamy na na koncertową edycję Fallen Angels Party do Wrocławia która odbędzie sie 12 czerwca w Wagonie.
Tego wieczoru zagra dla nas słowacki zespół LAHKA MUZA (gothic/ritual/dark wave), który zaprezentuje m.in. nowe utwory z płyty która wyjdzie pod koniec 2010 roku. Before & after party przy dzwiękach gothic/electro zapewniają Dje Fallen & Faust. Tak więc na tą niecodzienną ucztę koncertową zapraszamy wszystkich miłośników lubiących się w nietypowych dzwiękach ocierających się o klimaty gotyckie jak i bardziej elektroniczne.
Data – 12.06.2010
Koncert – Lahka Muza
Before & After party – Dje Fallen & Faust
Miejsce – Wagon Club, Wrocław
Start – 20:00
Wjazd – 12zł
Lahka Muza – klasyk słowackiej mrocznej sceny. Grupa działa od 1984 roku. Po wielu zmianach skład ustabilizował się w postaci Gundrun Snake i 677. Duet mistyczno-elektroniczny, którego przestrzenna i jednocześnie chłodna muzyka miejscami przywodzi na myśl Dead Can Dance, innym razem Swans lub Crime And The City Solution. Z tych wpływów wyrasta tu bardzo klimatyczna twórczość o własnym, niepowtarzalnym obliczu. Na przestrzeni lat LAHKA MUZA stała się najbardziej oryginalną grupą Europy środkowo-wschodniej. Ich muzykę wyróżnia głębokie rytaulne brzmienie mocnego kobiecego wokalu. Wydali do tej pory siedem albumów i wystąpili na najważniejszych festiwalach Europy m.in. na Gotik Treffen (Niemcy), Dark Nation Day (Austria), Black-Out (Austria), trzy razy na Castle Party (Polska), Kunigunda Lunarna (Litwa), The Prague in Dark Festival (Czechy), Gothic.PL (Polska) Resistance (Słowacja), Beyond the Veil (UK).
http://www.lahkamuza.net
http://www.myspace.com/lahkamuza