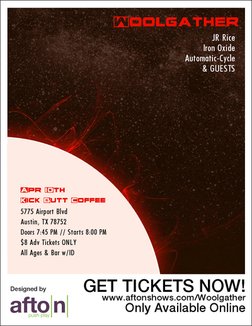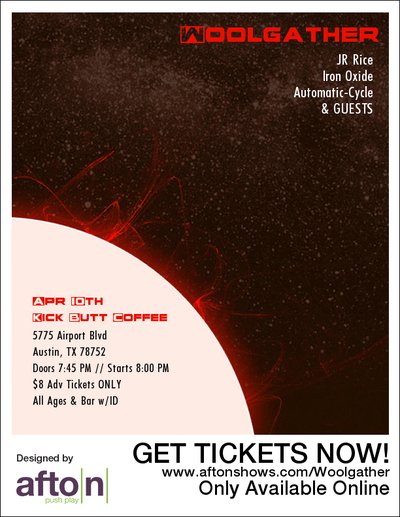 Date
Saturday 10 April 2010 at 8:30pm
Description
This is the follow up to Woolgather's two-part Austin, TX return show series, with special performances of songs from the new album, "Programmes: Vol I", as well as an extensive sneak peak if "Vol. II", which is set to be released in mid-2010, plus some new, never-before heard tracks that are going to be played only this one time until it is time for a 3rd record, so don't miss out!
Tickets are ONLY available ONLINE at: https://tickets.aftonshows.com/Woolgather
It's imperative that we get as many fans as possible to buy tickets, and if you're feeling generous, there's the option to tip us (we sincerely appreciate every cent). You're also given a high quality flier in PDF form to have as a memento or to use to help street team.
Remember, tickets ONLY available online at https://tickets.aftonshows.com/Woolgather and this is a very special series of shows for us personally as it's been 3 months since we've played for you.
Be there at 8:30pm Saturday, April 10th at Kick Butt Coffee on Airport Blvd. in Austin, TX!
LOVE
Woolgather