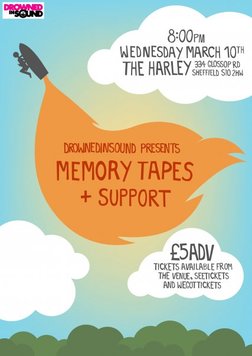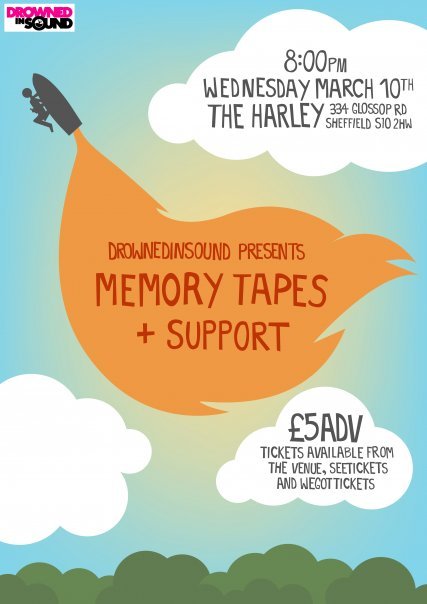 Date
Wednesday 10 March 2010 at 8:00pm
Description
DrownedinSound presents:
Memory Tapes
http://www.myspace.com/memorytapes
Memory Tapes is a recording alias of New Jersey-based Dayve Hawk, former frontman of Philadelphia-based Hail Social. Memory Tapes' first LP, 'Seek Magic' - one of DiS' albums of the year, hands down - was released in September 2009, through the label Sincerly Yours, and in the UK on Something In Construction. He also has released tracks under the names Memory Cassette and Weird Tapes. This will be one of his first live appearances in the UK, and will feature a full band. We haven't been this excited about a booking in a long old while.
"Having greedily sucked the Tapes blog dry of every note I could find without so much as a by your leave to the chap generous enough to share his creations with a bunch of strangers, I waited for Seek Magic's release tingling like a tuning fork and hoping he wouldn't pull a Big Pink on me. He didn't. Seek Magic is probably my favourite album of the year" - DrownedinSound
"A record of achingly gorgeous dance-pop that captures both the joy of nostalgia and the melancholic sense that we're grasping for good times increasingly out of reach" - Pitchfork
"This is another one of those records about escapism, yearning for a bolt of light in the dark, an end to normality. And it finds it, to almighty effect; producing the kind of rapturous charge that no bedroom-dance record has ever assembled before" - MusicOMH
"It's music that will soundtrack those peculiar moments where you really pay attention, free of distractions. This is music to spend time with and worth making time for" - No Ripcord
+ Support
+ DJs: DrownedinSound
Ticket outlets:
The Harley
SeeTickets - http://www.seetickets.com/see/price.asp?code=450219
WeGotTickets - http://www.wegottickets.com/event/69951
Log in to Last.fm or sign up to leave a shout.
Extra tickets: http://www.wegottickets.com/event/69951

Actions

WeGotTickets is sold out for the time being at least, but still some remaining on SeeTickets: http://www.seetickets.com/see/price.asp?code=450219 - and at the venue.

Actions