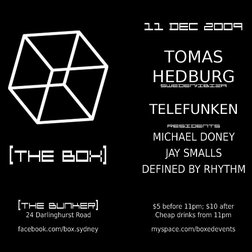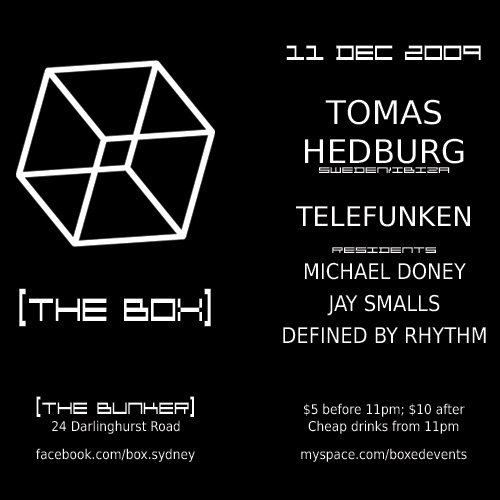 Date
Friday 11 December 2009 at 10:00pm
Location
The Bunker, 24 Darlinghurst Road, Kings Cross
Sydney, NSW, Australia
Description
Destroying brain cells on the 2nd Friday of each month in the Bunker since March 2008, has become a Minimal/Techno party notorious for its musically discerning, friendly, yet utterly insane crowd...
This month, we're delighted to present international DJ Tomas Hedberg and Telefunken.
Tomas Hedberg (Sweden/Wonderland, Ibiza)
To many that have made the pilgrimage to Ibiza, Tomas Hedberg needs no introduction. His DJing has taken him from his native Sweden through myriad countries before becoming a resident of Pete Tong's Wonderland parties at Eden in 2008. Residencies at super clubs such as Manumission and El Divino and appearances at Underground and Space mean Tomas' has been a familiar face on the White Isle since 2001, even voted by clubbers as "Best Resident Ibiza DJ 2009" in this year's DJ Awards.
Tracks and remixes released on Rebirth, Phonetic, Pacha, Flow Vinyl, Wolf Music and Pieces of Eight and a recent collaboration with Jo Mills – 'Serious Muzik' – ensures Tomas is regarded as a production talent to watch closely. Remixes of his work by Guy J and Chris Woodward and remixing and co-producing the recent Pacha Live compilation further cements his reputation.
Describing him, "One of the brightest discoveries of my summer and purveyor of hot tunes as well," Pete Tong also refers to Tomas as the Swedish Nic Faniciulli. Fanciulli himself says, "Tomas is one of the brightest new stars in the house scene."
Tomas' raw technical ability, a focus on deep, funky, tech tunes and an adventurous mixing style will tear the lid off !
Telefunken (Deep House Project)
DJing together since 2005, Telefunken have (dis?)graced the decks at many of Sydney's respected events and festivals including Playground Weekender, Future Music Festival, We Love…Sounds, Earthdance, Spice, Wham, Minimal Fuss, Club Club and Sweetchilli; with sets also throughout Australia, San Francisco, Japan, Fiji and Nu Caledonia.
To date, Telefunken have supported the likes Teifschwarz, Jona, DJ T, Nic Fanciulli, James Zabiela, Audiofly, Jo Mills, Ben Watt, Clive Henry, Hipp-e, Spencer Parker, Joachim Gerraud, Mike Monday, Tayo, James Lavelle (Uncle), Who Made Who, Trentemoler, D'Julz and many more
Recently the guys have been in the studio with releases due out on the Deep House Project label later this year, following up Boffa's Katsu Ron EP that came out in 2008.
We're delighted to have Cam and Boffa back for an encore appearance at .
Along with residents Michael Doney, Defined by Rhythm and Jay Smalls get ready for a night of looseness in the style that only provides!
Starts 10pm. Entry $5 before 11pm, $10 afterwards. doesn't bother with meaningless guest lists.