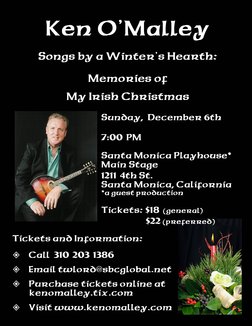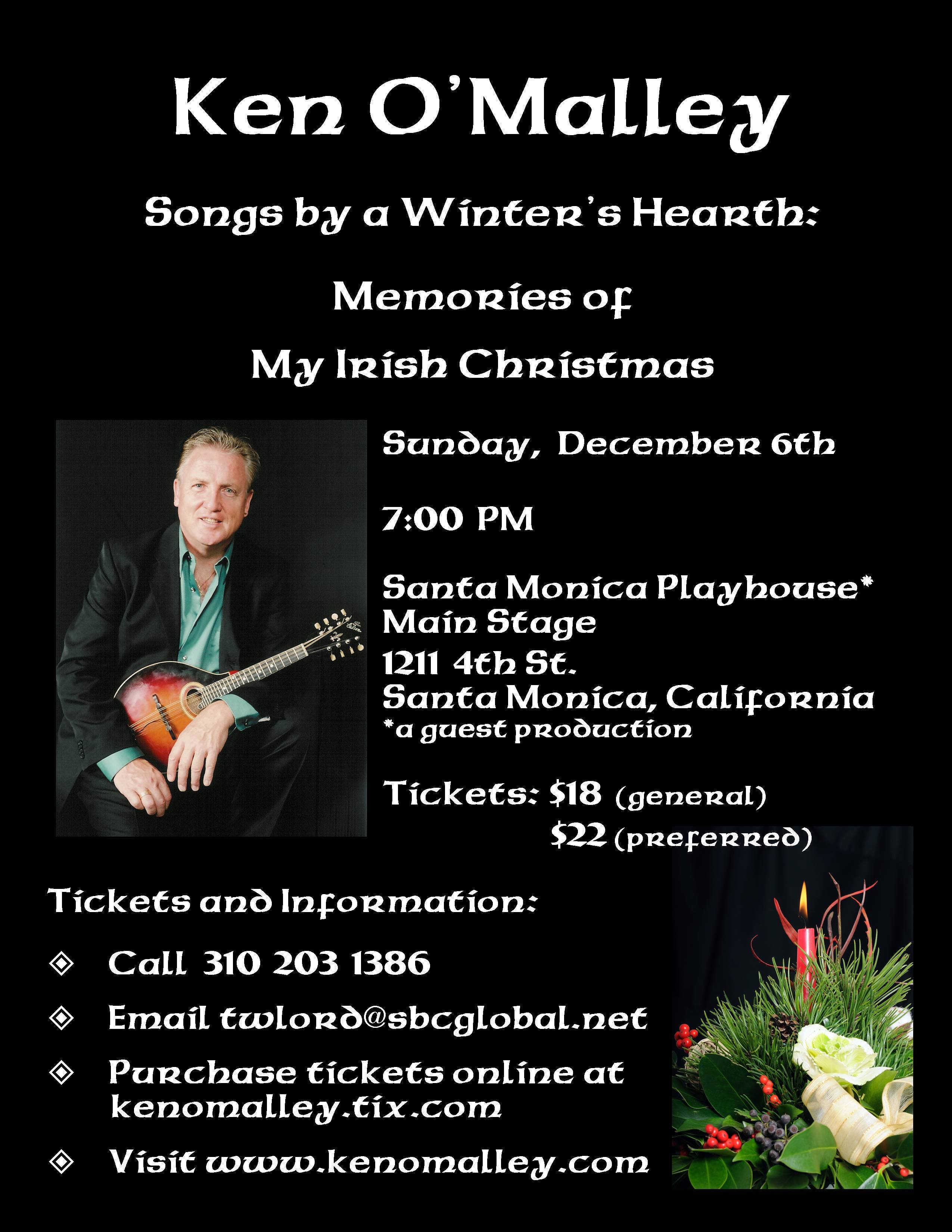 Date
Sunday 6 December 2009 at 7:00pm
Location
Santa Monica Playhouse 1211 4th St.
Santa Monica, CA, United States
Description
ACCLAIMED IRISH BALLADEER BRINGS THE MAGIC OF CHRISTMAS IN IRELAND TO THE MAIN STAGE AT THE SANTA MONICA PLAYHOUSE DECEMBER 6th

Memories of Ireland's winter nights and the warmth of the family hearth will come to life through song and story in Ken O'Malley's "Songs by a Winter's Hearth: Memories of My Irish Christmas", a solo musical performance which will take place on Sunday, December 6, 2009 at the Santa Monica Playhouse. In this captivating show, the Dublin born singer-songwriter will transport his audience to his beloved Ireland with his rich, resonant voice and engaging stage presence accompanied by his remarkable talent on guitar and mandolin.
The University of St. Thomas at Houston proclaims that Ken O'Malley is "widely regarded as the finest Irish folk singer/songwriter in the United States today" and the Irish News calls this consummate entertainer "without question, . . .the single most enduring, influential and proficient of all Irish musicians in Southern California . . ." And, last year, Folkworks Magazine named him second among the top 10 live acoustic male singer-songwriters in Los Angeles.
The event promises to be a magical evening of music with songs in both English and Irish Gaelic, suitable for all ages. Not just a singer, about whom Dave Soyars of the Irish Herald writes "his powerful and emotive voice shines through on everything he does", O'Malley is also a cultural ambassador and educator who infuses every performance with a genuine passion and love for his native land and its people. As longtime fan Mark Dresser says "the songs Ken sings touch all of us, Irish or not, to the very core of the human heart."

Admission is $18 general admission or $22 for preferred seating. Showtime is 7:00 PM on Sunday, December 6, 2009 at the Santa Monica Playhouse, 1211 4th St., Santa Monica, CA 90401.
Tickets are available online at http://kenomalley.tix.com or by calling 310 203 1386. More information about Ken O'Malley may be found at www.kenomalley.com.
Ken O'Malleyhttp://www.youtube.com/watch?v=daj_aKiOna4