Líder:
iannel
Política de participación
Abierto
Creado el:
13 Jul 2008
Descripción: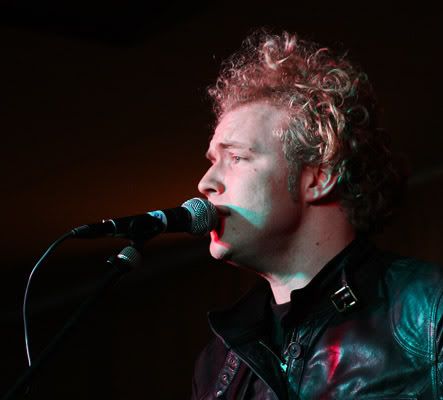 ©: eGigs.co.uk
Currently based in London, 25 year old Liam Gerner has been writing songs and performing in his native South Australia since the age of 12. 'I started playing guitar and making up songs to escape my family's arguments,' says Liam. 'When I was eight my brother played me the Peter Gunn theme on his guitar and I thought I have to play that and give others what it's given me - that fire!'
'My folks had a lot of vinyl,' he remembers, 'so I've been inspired by a lot of music: I just used to put on whatever cover looked good and hit the living room carpet with my wooden tennis racket.' These records included a wide variety of influences: Peter Gabriel, Bruce Springsteen, Van Morrison, Ron Sexsmith, Steve Earle, Lyle Lovett, Robbie Fulks, Billy Bragg, Nick Lowe, Elvis Costello, Sting, Robert Johnson, Emmy Lou Harris, Midnight Oil and The Cruel Sea among many others.
While playing in Australia, Liam was talent-spotted by Peter Gabriel, who invited him to play at WOMAD - first in Australia, then in the UK. These shows lead to headlining performances at the Islington Academy and The Borderline in London.
Liam recorded "Clear Mind" at George Martin's Air studios with producer Andy Strange. "These are songs I wrote while in the Australian desert playing in bars to miners! 'There's a song about a London street sweeper (Dustman), a song about the disaster of the boat Siev X that sank between Indonesia and Australia,' (Small Wooden Boat) he recalls. 'There are a couple of songs inspired by young soldiers, including a 21- year-old father-to-be, a soldier in a British tank regiment in Iraq - I met him on a train to Edinburgh'(A Hole in a Storm).
Over the last 6 months he has played support slots with Teddy Thompson, Robbie Faulks, Tex Perkins and Tim Rogers - and full tours with Newton Faulkner, Ryan Bingham and Amy McDonald. He has also worked with the multi-million selling French Artist Era 4 and Darren Emerson. He toured with Liam Isbell, and he supported Paul Weller and Duffy at the TCT concert in Royal Albert Hall in April.
Then, after touring with Weller, he was invited to support Alanis Morissette around UK and Europe on her "Flavours of Entanglement" Tour: Frankfurt, Amsterdam, Paris, Brixton, Birmingham, Rome, Turin, Barcelona, Vienna, Prague, Madrid
Liam also wrote the music and songs for the award-winning Australian film Angela's Decision. Currently playing at film festivals worldwide, his music for the film has enjoyed critical acclaim, nominated for best song and score in several festivals, among them the New Jersey Film festival.
On 19th June 2008 he signed his record deal with Sony/BMG Entertainment, and will release records through the ARISTA label later this year.
sources:
http://www.liamgerner.com
http://www.mindviz.com/liamgerner