With the new Spotify desktop software 1.0.1. being rolled out now, the Last.fm for Spotify app will no longer work in this version. See this pinned thread for more information and possible workarounds.
--
This is the official support group for Last.fm's Spotify app which you can either directly install for free
from here
or search in the Spotify desktop client with their App Finder. See also the
Last.fm developer blog
and the
Spotify news blog
as well as the video below describing this app. For general questions about
Spotify
you can also check their
community forums
which are open for all users.
Some preliminary remarks:
You do not need this app for
scrobbling
from Spotify, as the Spotify desktop client has a native scrobbler (check
"Edit" -> "Preferences"
) which also caches the scrobbles in case the Last.fm
submissions server
is not available.
So you do not need the
Last.fm scrobbler
either if you want to scrobble from Spotify, as the two clients are not directly connected and work independently from each other. But it can show you the wiki infos of the playing track like this app in the "Now Playing" tab when using both clients at the same time. The permanent info "Enable scrobbling by getting the Last.fm for Spotify app" on top of the new Last.fm scrobbler GUI includes an internal Spotify link. This is a shortcut to the login screen of the app where you can fill in your Last.fm details which automatically copies them to the Preferences of the Spotify desktop software as well, but it does not mean that the app is doing the scrobbling now.
The Spotify apps for iOS, Android and Windows Phone as well as the
web player for your browser
can also scrobble to Last.fm, but do not feature a cache, so you lose your scrobbles if the connection to the Last.fm server is not available. Furthermore they cannot use this or other external apps.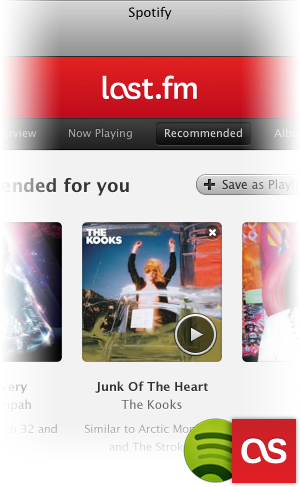 How do you choose what to play next when you could listen to anything? Use Last.fm for Spotify and find out in seconds. Get recommendations and playlists based on the music you listen to. Whether you're new to Last.fm or a long-time scrobbler with dozens of loved tracks, you'll get great recommendations straight away. Listen on demand to music we think you'll love based on the music you play. What's more, you can build playlists with just one click and effortlessly share them with friends on Spotify, Facebook or Twitter.
Features:
* Recommended albums based on the music you listen to, either individually or in one large playlist of 12 albums per page (5 recommendation pages max.).
* Dismiss recommendations by hovering the album cover and clicking on the Delete icon in the upper right corner, see picture above.
* Instant access to your favourite albums from the last three months, either individually or in an overall playlist.
* Your 50 recently loved tracks (if available on Spotify) instantly or saved as a playlist, see the "Overview" tab.
* Your recently listened tracks instantly or saved as a playlist, see the "Overview" tab.
* Rich artist information and images from Last.fm wikis while listening in the "Now Playing" tab.
* Seamless integration with new and existing Last.fm profiles, e.g. love new tracks from the app in the "Now Playing" tab.
* Similar Tracks playlists created from the current track in the "Now Playing" tab or from any other track in a Spotify list by drag&drop onto the Last.fm app icon.
So if you're wondering what to listen to next,
get the Last.fm app for Spotify now
.
Spotify is available in Andorra, Argentina, Australia, Austria, Belgium, Bolivia, Brazil, Bulgaria, Canada, Chile, Colombia, Costa Rica, Cyprus, Czech Republic, Denmark, Dominican Republic, Ecuador, El Salvador, Estonia, Finland, France, Germany, Greece, Guatemala, Honduras, Hong Kong, Hungary, Iceland, Ireland, Italy, Latvia, Liechtenstein, Lithuania, Luxembourg, Malaysia, Malta, Mexico, Monaco, Netherlands, New Zealand, Nicaragua, Norway, Panama, Paraguay, Peru, Philippines, Poland, Portugal, Singapore, Slovakia, Spain, Sweden, Switzerland, Taiwan, Turkey, United Kingdom, United States, Uruguay (see
Wikipedia
for an updated list).