Moderator:
AsteroidB-612
Gruppenstatus:
Offen
Gegründet am:
5. Mär. 2006
Beschreibung:
For fans of the manga / anime
Gravitation
(グラビテーション) and its music.

-o-...
This is a group for the fans of the anime and manga "Gravitation" (グラビテーション) by Maki Murakami, as well as the music featured in it.
-o-
Welcome to Gravitation:
Gravitation
- The Group
Leader:
AsteroidB-612
The Golden Rule:
Please be courteous and respectful - no hateful messages of any kind. Besides that, feel free to do whatever you like.
Gravitation is a shonen-ai manga and anime series. The manga originally ended in 2002 after 12 volumes, new chapters are now being serialised in an online manga anthology, the manga is published in English by TOKYOPOP.
The story surrounds the aspiring and energetic singer Shuichi Shindou who, with his band, Bad Luck (formed with his best friend Hiro), wants to become Japan's next big thing, like his famous idol Ryuichi Sakuma, lead singer of the disbanded legendary group Nittle Grasper. One evening, Shuichi is writing lyrics for a song when his paper is blown away by the wind and picked up by a tall blond man. The man dismisses Shuichi's hard work, which hurts Shuichi deeply, although he is intrigued by the stranger. This will be only their first encounter, as Shuichi will become fascinated by the stranger, who turns out to be a famous romance novelist, Eiri Yuki, and they will begin a relationship.
Although shonen-ai content is relatively commonplace in anime, this is one series to directly discuss the characters' homosexuality as such, rather than simply presenting it. The two episode OVA series was released in 1999. The thirteen-episode TV series aired in Japan from October 4, 2000 to January 10, 2001, on WOWOW satellite channel. The original manga series is written by Maki Murakami and continues the story further than either of the animated series. The anime goes to roughly volume 8 of the manga. The Gravitation TV series has been licensed for North American release and is available from Right Stuf International on four DVDs. The OVA series is licensed by the same company and is now available.
The precursor to Gravitation was a dōjinshi series titled Help!, which followed a similar story line but cast the characters in slightly different roles. Murakami penned a thirteen volume dōjinshi series called Gravitation Remix (published by the group Crocodile Avenue). The Remix doujinshi are much more sexually explicit than the manga and deviate heavily from the manga storyline. In addition to the Remixes, Murakami created three Megamix dōjinshi, dubbed Megamix, Megamix: Panda, and Megamix: Kumagorou. These are extremely explicit, even compared to the remixes. (These also deviate from the storyline as the Remixes do, though Panda takes a step further to include Shota.)
Eight audio drama were produced for Gravitation, featuring most of the seiyū of the TV and OVA series. Five retell events from the manga series, while the remaining three cover new story material. The drama albums also contain musical tracks performed by the Japanese voice actors.
From Wikipedia
Links Relating to Gravitation:
-o-
TV opening theme:
"SUPER DRIVE" vocals by
Yousuke Sakanoue
TV ending theme:
"Glaring Dream" vocals by
Kinya Kotani
OVA opening theme:
"Blind Game again" vocals by
Kinya Kotani
OVA ending theme:
"Smashing Blue" vocals by
Kinya Kotani
Nearly all of the music for Gravitation (except songs that appeared on later drama albums) was written, performed or produced by
Daisuke Asakura
. Guitarist
KENICHI ITO
also appears on many of the tracks.
You can buy Gravitation music and drama CDs at
CDJapan
or
Amazon
-o-
Other Anime Groups at Last.fm:
-
Tokyo Babylon
-
Eerie Queerie!
-
Yami no Matsuei
-
X
-
Weiß Kreuz
-
DNAngel
-
Spiral
-
Loveless
-
FullMetal Alchmist
-
.Hack
-
Ranma½
-
Shaman King
-
Fruits Basket Forever!!!!!!
-
+ANIMA
-
Chrono Crusade
-
Kyou Kara Maou
-
Deathnote
-
Kino No Tabi
-
Anime and Manga
-
Anime Alliance
Gravitation-Related:
-
Shuichi Shindou
-
Yuki Eiri
-
Sakuma Ryuichi
Enjoy!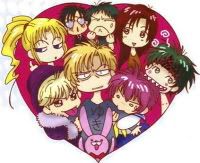 Pokemon Gothic and Pokemon Symphonic POKEDEX COMPLETE von CGholy | 2. Jan. 2011 |

61 Kommentare

The magical Last.FM 1000 von Nitrogenix | 19. Nov. 2009 |

1 Kommentar

III Salón Manga de Cádiz ~ 3, 4 y 5 de octubre de 2008 von eterarnial | 5. Sep. 2008 |

1 Kommentar
Alle anzeigen